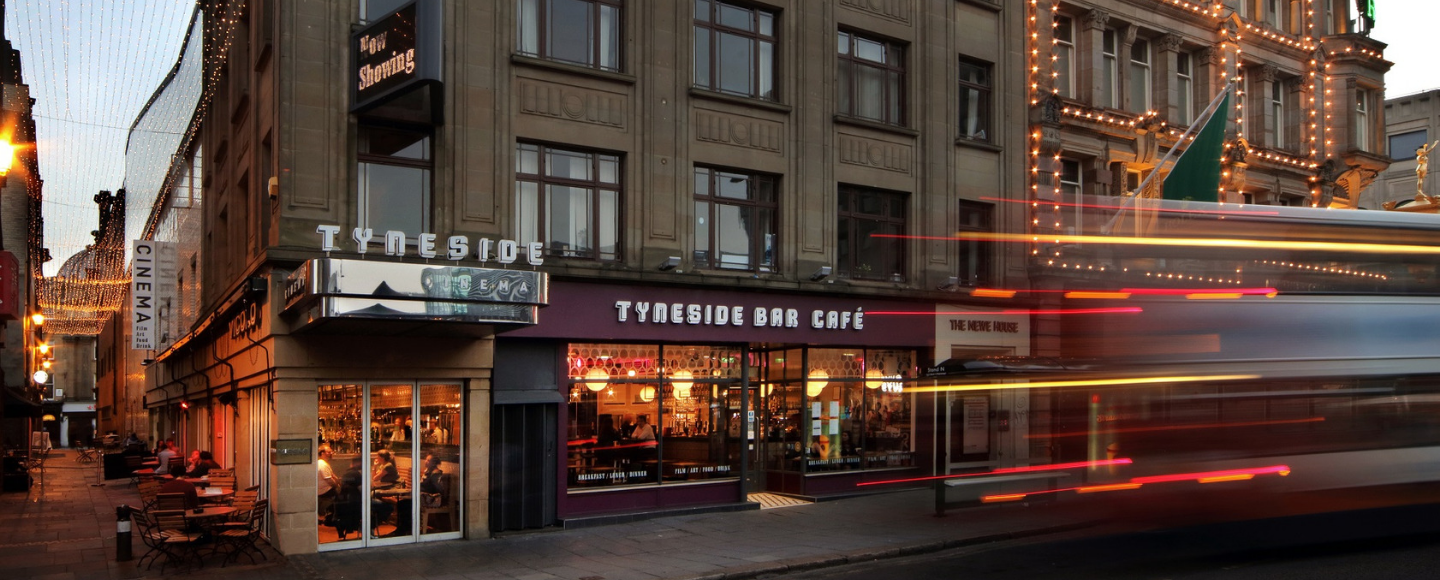 Tyneside Cinema is a registered educational charity and company limited by guarantee. The Trustees of the charity are unpaid and give their time freely and generously bringing to bear significant skills to support the cinema.
Led by Holli Keeble, Chief Executive Officer, the Tyneside Cinema team is made up of over 100 full and part-time employees.
Each person works across the organisation from customer service to the front-of-house teams in the Bar Cafe, Vicolo and the Tyneside Coffee Rooms, back-office support like marketing and finance, as well as film programme, learning and artists' moving image.
Director of Film Programme, Andrew Simpson: andrew.simpson@tynesidecinema.co.uk
Director of Learning & Participation, Ian Fenton: ian.fenton@tynesidecinema.co.uk
Director of Artists' Moving Image, Adam Pugh: adam.pugh@tynesidecinema.co.uk
Head of Events, Louise Bennett: louise.bennett@tynesidecinema.co.uk
Customer Service team: teamleaders@tynesidecinema.co.uk
Marketing team: marketing@tynesidecinema.co.uk
Box Office team: boxoffice@tynesidecinema.co.uk
Technical team: projection@tynesidecinema.co.uk
Vicolo: vicolo@tynesidecinema.co.uk
Tyneside Bar Cafe: enquiries@tynesidebarcafe.co.uk
Chair: Lucy Armstrong, Chief Executive Officer, The Alchemists
Catherine Bray, Film Producer Loop and Commissioning Editor at Random Acts
Clare Binns, Joint Managing Director, Picturehouse
Ewan McIntyre, VP Analyst, Gartner
Martin Such, Chief Executive Officer, Curtis Gabriel
Nick Shottel, Operations Director, 21 Hospitality Group
Richard Carmichael, Account Director, Engie UK
Steven Kyffin, Pro Vice-Chancellor Business and Enterprise, Northumbria University
Tyneside Cinema Trading Company Board
Chair: Tom Caulker, Proprietor, World Headquarters
Dave Stone, Director, Wylam Brewery
Jane Shepstone, Conference & Events Sales Director, Newcastle Falcons
Nick Shottel, Operations Director, 21 Hospitality Group
Ruth Connorton, Solicitor
Mike Figgis: is a film director, screenwriter, and composer. He was nominated for two Academy Awards for his work in Leaving Las Vegas
Mike Hodges: is a screenwriter, film director, playwright and novelist. His films as writer/director include Get Carter filmed in Gateshead
Andrea Riseborough: is an actor. She has appeared in Made in Dagenham, Nocturnal Animals, The Death of Stalin and Mandy
Paul Smith: is a musician and the lead singer of rock band Maxïmo Park
Neil Tennant: is a musician, singer, songwriter, music journalist and co-founder of the synthpop duo Pet Shop Boys