5 May 2021
We, along with the rest of the North East, have been eagerly anticipating the next phase announcements from the Government on the easing of lockdown restrictions. Currently, the anticipated roadmap date set for cinemas re-opening in some capacity is 17th May.
In the previous update we posted in March, we referenced that we had unfortunately suffered a flood back in January whilst the building remain closed. The flood has caused significant widespread damage after bursting through the ceiling of the 4th floor and cascading down the central stairway affecting doors, walls, floors and many other parts of the cinema. The volume of water had been building up for some period of time and potentially leaking between partitions and walls.
The extent of the damage has been now been fully investigated and following a long period of drying out and a thorough assessment by our insurers as to the extent of water damage caused, we are now aware of the full scope of repairs required to restore our beloved cinema building back to its previous state. Tender packs have been issued to contractors to carry out the repair work, and we expect the work to be underway at the end of May. We are reassured that the damage is repairable and that once our audiences do return, the cinema itself will look better than ever. Currently we expect to have our building back in its entirety by the start of July, although there could be opportunity to open parts of the building sooner whilst repairs are ongoing. We will continue to post updates as to our plans on our website and social media.
Whilst the Tyneside Cinema team would ideally have liked to be in a position to re-open sooner, our intention is to open well and as early as we can given the current constraints. During this period, we will utilise the additional time to continue progress on the recommendations from the independent review, including reviewing all of our processes and procedures, providing essential training to our teams, and reintroducing our people back to the cinema safely and in a supportive way. We have the opportunity to build Tyneside Cinema into new ways of doing things and we intend that to be a fully inclusive process for the whole team, in order to get our beloved organisation ready for our audiences once again. We can't wait to welcome you back.
11 March 2021
Following the recent announcement from the Government on the roadmap for easing of the lockdown, a notional date of 17th May has now been set for the re-opening of cinemas in England. Current guidance is that some social distancing measures will remain in place, with capacity potentially being limited to 50%.
Our intention is to aim towards a re-open date as close to the 17th May as possible, and we eagerly await confirmation on the operating restrictions over the coming weeks. Unfortunately whilst our beloved building has remained closed for almost a year, we have suffered an added complication of significant flood damage. A drying process is underway and we are assessing the extent of the water damage and subsequent repairs needed.
We will share further updates and confirmation of our re-opening date as soon as we are in a position to do so. In the meantime the majority of the team at Tyneside Cinema will remain on furlough, so if you would like to get us in touch with us we will respond as soon as possible.
Take care and stay safe.
03 December 2020
It is with a heavy heart that we must inform our valued audiences that we have taken the difficult decision to remain closed for the remainder of 2020.
Despite all of the effort and hard work we have done to our beloved building to ensure the cinema is safe for our customers and our team, Tier 3 rules mean we have been prevented from re-opening as we had hoped.
With the ongoing uncertainty surrounding the next review of the tier system, and government choices around how cultural institutions may operate beyond 16th December, opening before Christmas is no longer a viable option for us.
The arts and culture and hospitality industries UK wide have been severely impacted by the ongoing Coronavirus. It has continued to pose challenges around our detailed planning in relation to the film programme, our sourcing and stock levels for our cafes and bars, and our ability to operate at a reduced capacity that conforms with social distancing best practice.
We will return in 2021 and we eagerly await the re-opening of our doors and the opportunity to welcome everyone back. We will continue to publish updates on our website to keep you updated. In the meantime we wish you a peaceful Christmas and a very very Happy New Year.

Commenting on the announcement that Newcastle has been placed in Tier 3, Simon Drysdale, Interim Chief Executive Tyneside Cinema said;
"We are really sad to hear this news as we were ready to re-open Tyneside Cinema very soon. A huge amount of preparatory work has been done and all staff are focused on ensuring that everything in the cinema is safe for customers and our team.
We are also very disappointed as we had a brilliant programme in place in the run up to Christmas, including all the traditional favourites.
However we will wait, and hope, that after Dec 16, when the rules are reviewed, we may be able to open. We will continue to share updates on our plans as and when possible.
As Cinema UK has said, there hasn't been a single instance of Covid transmission in a cinema in the UK, yet other, arguably riskier, services are being allowed to re-open in Tier 3. That said we are all committed to re-opening Tyneside Cinema as soon as we can"

We are delighted to tell you that Tyneside Cinema will be reopening its doors very soon, and we can't wait to welcome you back!
We want you to be able to feel as comfortable as possible when you visit us, so we have been working hard over these past few months to put measures in place to keep you and our staff safe.
We have put together a guide on what to expect the next time you come to Tyneside Cinema. As you are probably already aware, public safety guidelines are subject to change, so be sure to check this page before every visit to make sure you are up to date with our safety procedures.
What we're doing to keep you safe:
Reduced capacities and socially-distanced seating in all our screens
A staggered programme, with no film starting or ending at the same time as another
Access to the building for pre-booked ticket holders only, reducing the numbers of people in the building at any one time
Clear signage and additional staff assistance, to help you stay safely distanced and navigate our one-way system
A table service only system in our bar and restaurant
Additional cleaning and PPE
Hand sanitiser stations throughout the building
We remain fully accessible – you can find all our access information online here.
We love our beautiful Art-Deco building, and we wouldn't change it for the world; however, it has made getting ready to reopen safely a little more complicated. But we've managed it! Our cinema screens, Tyneside Bar Cafe and Vicolo, will now be entered and exited following a one-way system. There will be signs and members of staff present all around the building to help guide you. We have installed sanitising stations across the building, and ask that you use them as well as washing your hands regularly. To ensure thorough cleaning in cinema screens we have allowed for extra time between films, and so there will be a reduced number of showings per day. At first, not all of our screens will be in use. We have reduced the capacity of all of our cinema screens, as well as our bar and café spaces, to ensure that you can maintain social distancing at all times.
See below for helpful information about how each of our venues operate under our new COVID-19 safety measures.
Cinema
Before you visit
For the time being we will not have a physical box office at Tyneside Cinema. This means tickets cannot be bought on-site, and you'll need to book your tickets in advance either online or over the phone on 0191 227 5500. Our phone lines will be open from 11.00 -18.00, every day of the week. (Our box office phone line is not currently open)
You can purchase 6 tickets per social bubble.
We would also advise purchasing your refreshments in advance of your visit. Snack and drink add ons will be available to buy when you book your tickets. Refreshments will be available to buy on-site in Vicolo, but advance bookings mean your drinks and snacks will be prepared and waiting for you in advance, saving you time, and also reducing unnecessary queues.
During Your Visit
We encourage you to wear a mask in all indoor spaces unless you are eating or drinking, or you have an exemption.
When you arrive at Tyneside Cinema, you will need to wait outside in High Friar Lane down the side of the building. We will have markers in place to help keep you a safe distance apart from other customers.
We will be opening screens 10 minutes before the advertised time. When that time arrives, a member of staff will let you into the building via the cinema's doors on High Friar Lane (our former box office entrance)  and will direct you to your screen. There will also be floor signs to help you find your way safely.
If you have pre-purchased any snacks or drinks, they will be waiting for you at your screen. You will just need to give your name to collect them.
The latest you will be able enter a screening is 20 minutes after the advertised time. Any latecomers will not be permitted and will not receive a refund unless there are extenuating circumstances. This is to ensure that we can fully adhere to safety guidelines, by making sure customers are entering and exiting the building at scheduled times.
After the Film
When the film ends, sit tight! A member of staff will be on hand to guide you out of the screen safely row by row. You may also be asked to wait for a few moments before leaving, if others are also exiting the building at that time.
We ask that other than using the toilet, you don't stay in the building after your film has ended, but follow the signs to the exit, which will be via the doors on the ground floor.
If you would like to go to Vicolo or Tyneside Bar Cafe after your film, that's great! Simply exit via the main doors into High Friar Lane and follow the signs to the Vicolo and Tyneside Bar Cafe entrances.
Tyneside Bar Cafe
If you fancy a drink or a bite to eat, we recommend using our new online reservation service to book a table for our Tyneside Bar Cafe. It's easy to use and saves you worrying about being able to get a table when you arrive.
As part of our new one-way system, you can enter Tyneside Bar Cafe via the door on Pilgrim Street, with the exit being via the old box office entrance. There will be signs and members of staff present to help keep you right!
When you arrive, you will need to wait to be seated by a member of staff. There will be markers outside to help you maintain social distancing while you wait.
Tyneside Bar Cafe will now be table service only, even for drinks, so you can just sit back and relax, and a member of staff will come to you to take your food and drink order.
If you are planning to attend a film after you have been to Tyneside Bar Cafe, simply exit via the doors at the old box office and wait in High Friar Lane to be admitted into your screen.
Vicolo
Vicolo will now be functioning as a take away venue only. Visitors must queue outside in High Friar lane while they wait to be served. You must wear a mask and we encourage you to check-in using the NHS Test and Trace app that will be on display.
To maintain social distancing, Vicolo will now be entered and exited following a one-way system. There are signs present to guide you and our friendly food and beverage team are always on hand to help.
If you're planning to come and see a film at Tyneside Cinema you can now pre-purchase your drinks and snacks when you buy your tickets, but they will also be available to buy on the day in Vicolo.
• Book your ticket online or over the phone before your visit
• Pay using contactless payment in Tyneside Bar Cafe and Vicolo, if you can
• Keep a safe distance from both staff and fellow customers
• Wear a mask or face covering except when eating or drinking
• Wash your hands regularly
• Stay home if you have any symptoms of coronavirus
If you or anyone you live with displays symptoms of coronavirus, please do not visit Tyneside Cinema. You can find more information about the symptoms of coronavirus on the NHS website.
If you or a member of your household is experiencing COVID-19 symptoms, you must inform our box office team no later than 24 hours before the relevant event. Our box office team will then credit your account with the full amount, which you can use to book for another screening or event within one year, or you can exchange your tickets to another screening/event.
Frequently Asked Question
Do I have to wear a mask?
We expect visitors to follow the latest Government rules on masks and face coverings. Currently this means you will need to wear a mask in all indoor spaces unless you are eating or drinking, or you have an exemption.
Is it possible to book a walk-in ticket?
No. While our COVID-19 safety measures are in place we will not be selling any cinema tickets in the building. Our physical box office will be closed and all tickets must be purchased over the phone or via our website.
What if I have access needs?
If you have access needs, we ask that you phone our box office team who will be happy to help you make your visit to Tyneside Cinema as enjoyable as possible, or email us at boxoffice@tynesidecinema.co.uk.
What if I am concerned about another visitor's behaviour?
If you are concerned about another visitor's behaviour, in regards to COVID-19 or any other matter, please inform the member of our team. There will be a team member stationed on the ground floor at all times. For your safety and the safety of our other guests, please do not approach other visitors to the cinema yourself.
Are the concession stands open?
No. Our usual concession stands will be closed, but you can still buy snacks and drinks from Vicolo or pre-purchase them in advance when you buy your tickets.
Can I sit with my friend?
Under the current government safety guidelines, only people who are a part of your social bubble are permitted to purchase tickets and sit together with you in the cinema.
Are you using a Test and Trace system?
Yes. Anyone who purchases cinema tickets or books a table in Tyneside Bar Cafe will automatically have their details recorded for Test and Trace purposes.
Are your toilets open?
Yes, but with reduced capacity to maintain social distancing. Only guests of the Tyneside Cinema will be permitted to use the toilets in our building.
How far in advance of my film screening should I arrive?
You should arrive no earlier than 10 minutes before the advertised start time.
Do you have a risk assessment?
Yes. A thorough risk assessment has been carried out through all areas of Tyneside Cinema to ensure we are able to re-open safely.
Can I take a drink into the cinema?
Yes. Drinks are available to pre-purchase when booking your tickets, or from Vicolo on the day of your film screening.
Do you have a question that is not answered here? Please email us or call: boxoffice@tynesidecinema.co.uk / 0191 227 5500
When we closed our doors to the public in March, we didn't know how long we would be away. At the time, we couldn't have anticipated the severity of the COVID-19 crisis, or the impact it would have on all of our lives, as well as arts, culture and hospitality across the UK.
While we are aware that the Government had advised that cinemas could re-open from early July, this was not feasible for Tyneside Cinema or many other independent cinemas and arts venues, who occupy buildings not immediately ready for social distancing. Instead, we've taken the time to ensure we can make the necessary adjustments to our beautiful heritage building, to reassess both our film programme and what we offer in our bar and café spaces, and to invest in our dedicated team of staff through training and skills development, so that we are ready to serve our audience in a way that is safe.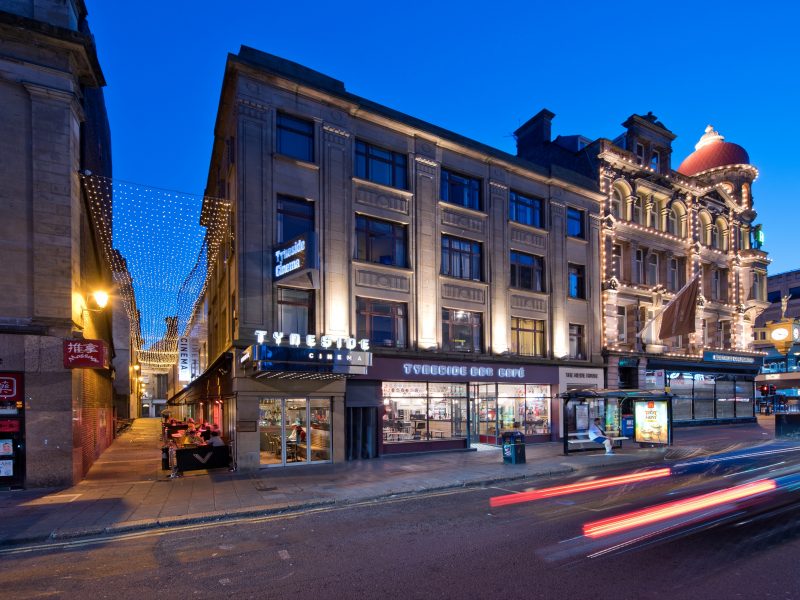 By opening when it's safe to do so, we will play our part in the re-opening of Newcastle, the recovery of our communities, and the survival of the arts. We're planning a fantastic programme of new releases, films that you might have missed whilst we were closed, and a selection of classic favourites, many of which have been chosen by staff from all across the cinema. More than anything we miss being the home of great films and bringing their magic to the widest possible audience. We're committed to providing a welcoming, safe place  for people to watch films, meet, eat and drink, and to delivering educational activity that brings film-related knowledge, skills and experience to a broad range of people.
Things will look a lot different than before. We're planning to re-open on a phased basis, initially through a series of 'soft opening' weekends in which we can trial-run our new safety measures. Social distancing will affect how we're planning our programme. We'll have a reduced cinema capacity, gradually increasing as the distancing measures are relaxed. We're also planning on fewer screenings per day, to avoid bottlenecks into our screens, and to allow for enhanced cleaning in between films.
We're working hard, listening to expert advice in order to make sure our visitors and staff are safe – and we've been speaking to colleagues across the region to find out more about best practice for us to follow. In addition, we'll also be conducting extensive research with our audiences, and we're committed to providing the highest possible standards in hygiene and social distancing whilst retaining the experience for which Tyneside Cinema is known.