After moving to New York, struggling writer Paul becomes besotted with his neighbour, Holly, a party animal and a socialite. Despite initially seeming worlds apart, the pair discover they may have more in common after all.
While you enjoy Audrey Hepburn's timeless classic, sip unlimited prosecco (or non-alcoholic option) and enjoy flavourful food from our brunch menu. Tyneside Breakfast, to our Tyneside Benedict's, there's plenty of choice: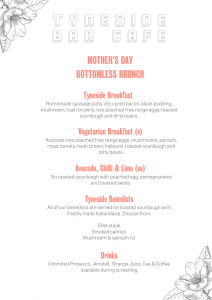 Before you book…
1. Bottomless Brunch is limited to films duration of 2 hours
2. Includes one dish from the Tyneisde Bar Café Brunch Menu with a choice of Prosecco, house beer, tea, filter coffee or orange juice
3. All guests required to order bottomless brunch ticket when booking.