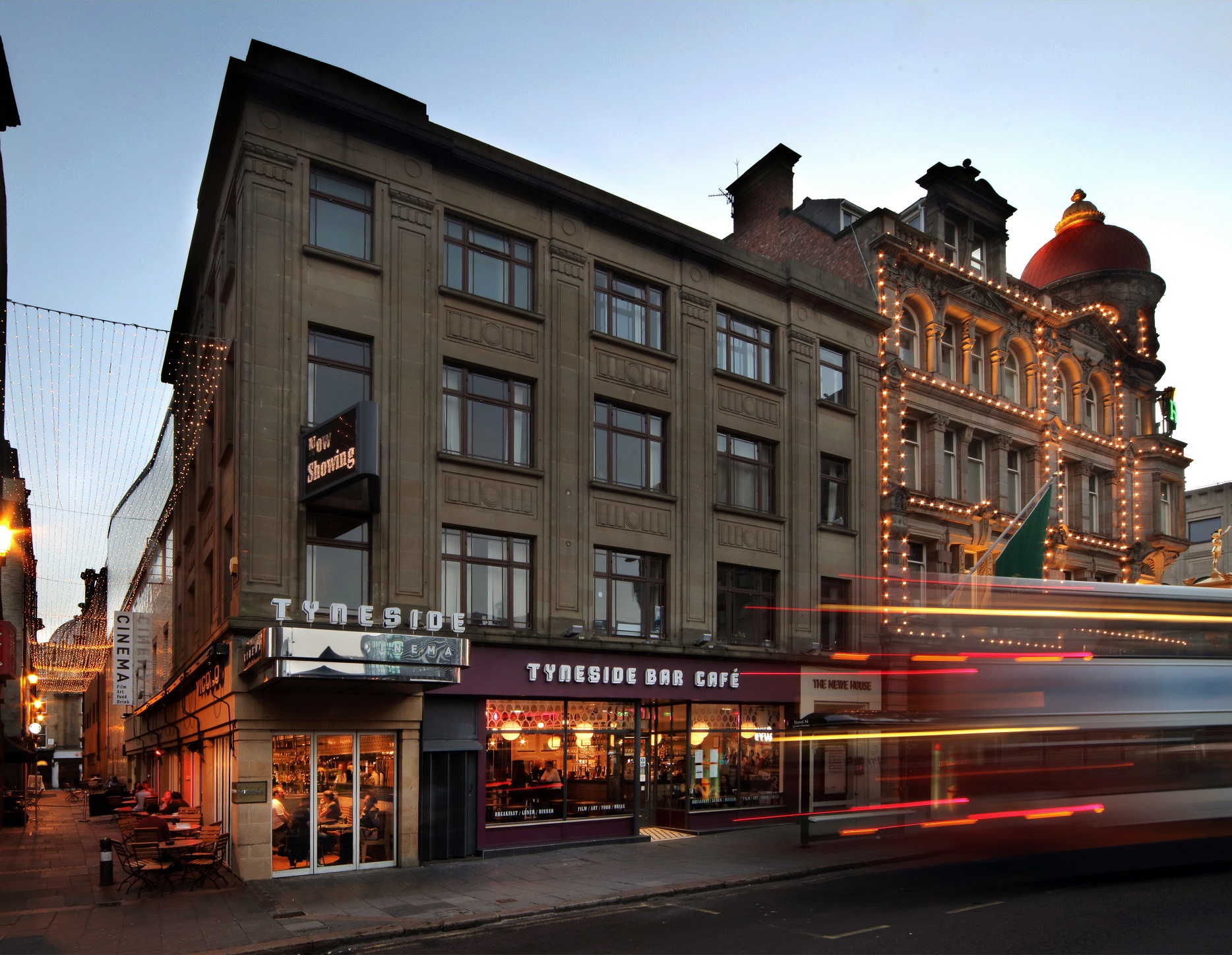 A year has passed since Turning Moment published their review. We took the recommendations seriously and committed to implementing them all. Since then we have worked hard to understand what went wrong and to create a properly operating organisation with good practice at the heart of all we do. This has been a collective effort. Staff, trustees and stakeholders committed to change and together we have delivered on our promise. Details of what we have done to improve our practices and culture are catalogued in my previous updates that you can find here on our website. Most essentially, we have delivered what everyone was hoping for – a fit-for-purpose and revitalised cinema with strong foundations for a sustainable future.
We have been open since August and we are now firing on all cylinders with film, hospitality and learning projects all underway. It has been a joy to see guests returning to our much-loved venue and we are proud of what we have done. We have been tested by floods and a building that, although beautiful, has needed much attention. But now we have fixed all the things that are mission critical and we have an ongoing improvement and maintenance plan to make sure the building is well looked after. You can see the results for yourself – smart paintwork, redecorated bars and super auditoriums. You will also be able to meet our confident team, with all members proud of where we work, what we offer and how we do things. Our film programme is back with a vengeance, comprising popular releases and more specialist treats that are shown in only a handful of cinemas UK wide. From the warm Christmas hug of It's a Wonderful Life to the cool heartbreak of Brazilian melodrama The Invisible Life of Euridice Gusmao, we have resumed our role as a world-class independent cinema.
We have created a new structure, new ways of doing things and a new organisational culture, but the work does not stop here. Our efforts now are focused on embedding good practice so the mistakes of the past are not made again, and pushing forward to be an exemplary employer and exceptional cultural institution. We owe this to everyone who has been part of our history, whether as a guest, artist or a member of staff. The place of Tyneside Cinema in the community of Newcastle is unique – the cinema has been a part of many peoples' lives in many different ways. We aim to honour that legacy by ensuring Tyneside Cinema is fit for the future and continues to serve the city and the region.
I extend thanks to everyone who has supported me and my incredible team in the last year while we have worked to reshape and rebuild our vital institution. We all look forward to seeing you soon and sharing with you the wonderful experience of great hospitality and the magic of film.
Simon Drysdale
Interim CEO
After sixteen months of closure Tyneside Cinema is ready to reopen. Our Bar Cafe and street-side bar Vicolo by Tyneside Cinema will open on Monday 2nd August. We will be announcing an opening date for our screens very soon. The building has been refreshed and improved since we were last open and our guests will experience a brighter more comfortable space.
Enormous progress has been made in resetting the organisation to ensure the mistakes of the past cannot be repeated. A key part of this work has been the implementation of recommendations from the independent review. We have made best use of the recommendations by developing our policies in line with the advice in the independent review and we have been careful to weave best practice into our ongoing policy work so the changes we make are solid and embedded in the way we do things in the future. A focus on making an appropriate organisational culture for ourselves has been central to our approach to training, recruitment and reflecting as a team on how we want our future to look.
As well as a comprehensive training programme, recent practical developments include the creation of a new Staff Handbook containing a comprehensive set of policies and procedures. Communication is important to us too and is now supported internally by our weekly staff newsletter, Staff Community Group and working groups focused on issues including Health & Safety, and Mental Health Awareness.
Our recent recruitment of Jim Beirne as our new Chair is the first installment in the development of our governing Board. Further new trustees will be appointed in the coming months and all trustees will be involved in the strategic choices of Tyneside Cinema that will secure its long-term future as a vital cultural asset for Newcastle and the North East.
It has been a long haul and there is still lots of work to do, but as a team we are confident in our direction of travel and optimistic for our future. Seeing guests return to our Cinema is what we are all most excited about and we very much look forward to welcoming you through our doors again very soon.
Simon Drysdale
Interim CEO

Report on our progress implementing the recommendations from the independent review
In 2020 complaints were made against the previous management and board of Tyneside Cinema.  A comprehensive independent review was commissioned and found that there were serious failings in management, governance, procedures and behaviours.  Complaints against colleagues relating to issues as serious as sexual assault had been mishandled, ignored or minimised by past managers and senior managers.  In some parts of the cinema, a culture had been allowed to prevail that resulted in intimidating and bullying behaviours, and across the organisation these issues were not picked up and dealt with appropriately. These failings stretched back several years and over the terms of numerous managers and trustees. The cinema had failed employees in terms of their protection, their right to make complaints through an appropriate structure, and their right to work in a safe environment, free from bullying and intimidation.
Last year, between August and October, Turning Moment carried out the independent review using desk research and interviewing former and current staff.  The resulting report contained 74 recommendations. In September 2020, the Chair of the Board and Chief Executive Officer resigned and other trustees also stood down in October.  None of the people implicated in allegations of bullying, sexual harassment or the mishandling of those cases continues to work for the cinema. The remaining trustees accepted all of the recommendations, committed to their implementation and apologised for their failings in governance.  On behalf of the cinema I offer a further and heartfelt apology to all the former employees who suffered from the organisation's mishandling of complaints and allegations, and to those too who did not complain but were also hurt by what went on.
In November 2020, I joined the Tyneside Cinema senior management team as Interim CEO.  My time at Tyneside has focused on creating an appropriate way of working and developing a sustainable model for the organisation to secure its future. The implementation of the recommendations has been central to this, providing guidance for good governance, management, systems and for building an appropriate culture. My guiding principle is to put people first and foremost in everything we do because that is both morally essential and the only way to build back a confident business.
The recommendations have been divided into four themed groups; Engagement & Wellbeing; Health & Safety; Support & Training; Human Resources.  Each of these areas is championed by two Senior Managers who are responsible for ensuring the recommendations are actioned in full and the recommended habits and practices are embedded into our culture and way of doing things over the long term.  Trustees monitor the progress of this work through detailed formal reports to the board and by observing and engaging in the work of the executive team. We have delivered all of the recommendations that were deemed urgent and essential for the reopening of the cinema as well as many of the recommendations that were scheduled for the medium term.  Longer term recommendations are either underway, or they are planned for completion within six months of reopening.  Examples of the results of our work responding to recommendations to date include:
Creation of a Staff Community Group with representation from each area of the organisation to provide a vital staff voice in all decision making.
Putting people matters and HR first in our organisation through actions including the appointment of an experienced and qualified People Manager to the Senior Management Team.
Comprehensive induction programmes are being developed and used for all new members of staff.
Practical and tangible guidance and standards have been communicated through the revision, development and communication of key policies.
Training in all required areas is being delivered, including; disciplinary and appeal actions; dealing with challenging customers; investigating complaints and allegations; performance management; developing dignity and respect.
Particular emphasis and attention on the training of all managers to deal with issues and complaints of harassment, bullying and inappropriate behaviour.
Senior Leadership Team has championed an inclusive and respectful work environment and is developing a positive and open culture.
We have improved communication across the organisation, including formal and informal updates, discussions and a weekly staff newsletter.
Opportunities for greater collaboration and involvement in decision making have been created.
We have reviewed, and where necessary reset, all procedures and processes to ensure all jobs can be done without overburdening individuals and creating stress
An Employment Assistance Programme has been developed including awareness of mental health issues, management training in recognising issues and practical support in the form of counselling services.
We are developing our Equality Action Plan, working with a cross-organisational team, and taking advice from outside organisations.
A full audit and response to Health & Safety requirements has been completed, essential policies and training have been delivered.
The company staff handbook has been rewritten, updated and developed to reflect the needs of staff and the organisation.
Unless an employee makes a special request we only offer contracts with a minimum of twelve hours of work per week. We do not offer zero-hours contracts.
Regular reports are made on the progress on the implementation of recommendations to the trustees and stakeholders including updates on the staff engagement process (measured through regular surveys) and any cases of bullying or harassment.
The Senior Leadership Team is developing a process of reflective practice in its approach to leading and managing the cinema.
Delivery of the recommendations has been, and continues to be, through a blend of training, policy development, formal and informal communications, change of organisational structure, leadership by example, and strong and interested governance.  An enormous amount of thinking, reflection, learning and planning has been done, and we are now seeing the results of our work.  Over the last four weeks all cinema colleagues have returned to work and engaged in a comprehensive reintroduction and training programme taking in practical, operational as well as behavioural and values-based topics. Through daily surveys we have been able to measure increasing levels of confidence and trust across our team.
Our progress in implementing the recommendations and complying with best practice in people management has, quite rightly, been scrutinised by our stakeholders.  The Charity Commission, Arts Council England, National Lottery Heritage Fund, British Film Institute and others demanded evidence of change and confirmation of our compliance with their standards before reinstating our relationships with them.  I am grateful for the support, practical criticism and attention of these stakeholders and we are pleased to continue to report back to them regularly on our progress, providing ongoing evidence of our organisational health and appropriate governance.
In common with so many people who have been on furlough over the last year, our team is having to readjust to the workplace and relearn how to operate.  In many ways this reset is valuable to us as an organisation because there are practices and behaviours that we have needed to change, and we are building our culture around shared values and best HR practice.  The cinema has been scrutinised and criticised by many people outside of the organisation.  This attention and interest has been mostly reasonable, but at times incorrect statements have also been made and these have been hard for some colleagues to deal with. We have focused our attention on supporting our team and guiding them through what has been an extremely difficult period for them.  It is important that we are given the chance to prove we have made changes for the better and that staff are not intimidated.  We will be reopening soon and I would invite all those who love the cinema to come and experience for themselves the difference in how we are working.  Our efforts to make Tyneside Cinema fit for purpose, now and in the future, are genuine.  We want as many people as possible to join us in celebrating the changes we have made.
Simon Drysdale
Interim CEO

Update on progress on the implementation of recommendations from the independent review
Last week our managers and supervisors returned to work to participate in a comprehensive reintroduction and training programme.  This week all of our team were back and we have worked together in sessions throughout the week to explore topics ranging from wellbeing to operations.  A key session focused on updating on how we are using the recommendations from the independent review as foundation stones for rebuilding our organisation.  Working on the basis that we will take with us the good practices from the past, and start again where we failed, we have made real progress.  An important theme of discussion and debate has been our organisational culture and how to ensure the mistakes of the past can never be allowed to reoccur.  Honesty and transparency throughout the organisation have been central to these conversations and the sense of security and trust in our team is growing.  Next week, when we are further into our training and reintroduction programme, I will be posting a more thorough update on our progress in implementing the independent review recommendations.
We are still on a journey and we are making the most of the time we have before opening.  As well as the operational and practical tasks that need to be sorted, we are ensuring there is always time for reflection and agreement on how we work together as a team.  Of course, what we are all looking forward to most is getting open and welcoming guests into our cinema. To succeed we need the support of everyone who loves the cinema.  We understand that proof of change can only be seen in our actions and felt in our culture, we hope you will give us the chance to prove we are different by visiting and experiencing what we have to offer.
Finally, I am very pleased to announce that Tyneside Cinema will reopen in July (dates and programme will be announced very soon).  Earlier this year we suffered severe flood damage in the building which has delayed us a bit, but our contractors are now getting on with the repair work and the cinema will look smarter at the end of it than it has for years.
We all look forward to seeing you back at the Tyneside soon.
Simon Drysdale
Interim CEO

Our progress on the implementation of recommendations from the independent review
Since my last update in January, we have made good progress on implementing Turning Moment's independent review recommendations.  Despite our continued closure due to Covid restrictions, we have worked hard to develop policies and procedures, deliver training, and support the wellbeing of our team.
Our new People Manager started with us this week.  Reporting directly to me, the post is an important sign of our commitment to ensuring the mistakes of the past cannot be made again. The recommendations of the independent review now form the bedrock of our approach to building a positive culture and our People Manager will work closely with our entire team to make sure ensure the Cinema is a great place to work.
Our recruitment campaign for a new Chair and Trustees starts next week. We want to encourage applications from the most talented people from the most diverse backgrounds.  The role of Trustee is one of great responsibility but also an opportunity to make a real difference by developing the strategy and future of the Cinema.  A job pack will be available here on our website very soon, so please look out for it and pass the message on to anyone who might be interested.
We are committed to reopening as soon as we possibly can and we are working hard to make sure that when we reopen we do so with resilience and sustainability.  We have an opportunity to move forward with a new operating plan, and a focus on our organisational culture that we hope will be felt by everyone who walks through our doors. We look forward to welcoming you back very soon.
If you would like to get in touch please drop me a line at  simon.drysdale@tynesidecinema.co.uk

Update on the implementation of independent review recommendations
In December we reported on our progress in implementing recommendations from Turning Moment's independent review. Working through the recommendations has been a positive experience for everyone at Tyneside Cinema and, as a team, we are learning a lot about how we can work together and how to make sure our future is safe, creative and bright.
Lockdown and tier restrictions have meant that meeting in person has not been possible and while most of our colleagues are furloughed we have needed to adapt timetables for the delivery of some recommendations.  On the other hand the enforced closure of the cinema has given us an opportunity to focus on key foundational tasks such as ensuring our HR systems and procedures are clear and up to date.
Our Staff Community Group has now been formed, with representatives from all areas of our business recruited.  Representatives will meet frequently to discuss key issues and activities happening at the cinema, with invited guests from the management team and the board.  The group's first meeting is set for next week and will become a valuable way of involving people at all levels in our organisation in engaging in how the cinema is run. Representatives will feed back news and views from the group to their colleagues and any employee of the cinema may ask to attend or observe meetings.
We are developing training for delivery over the next month around the themes of safeguarding and dealing with complaints and issues at work.  Our aim is to identify potential problems before they escalate and to deal fairly, compassionately and properly with every issue. In tandem with this work we will be progressing our work on developing clear standards around values and behaviours at the cinema.  We started this project last year before the review was published, and we are now in a strong position to build on this work and create the positive culture we all want to be part of.
Over the next month we will be recruiting an HR Manager who will report directly to me and completes our Senior Management Team.  Our board of trustees will also be starting the search for new trustees and a chair.  These posts will be advertised and details will be available here on our website soon.
We would like to take this opportunity to thank all the well-wishers of Tyneside Cinema for your messages of support.  We are working hard to make sure the cinema is a safe and joyful place to be, whether as a member of the team, a visitor or a friend.  We will continue to update on our progress on the website and we are very much looking forward to opening again in the near future.  In the meantime, if you have any questions or comments I would be delighted to hear from you at simon.drysdale@tynesidecinema.co.uk
Simon Drysdale
Interim CEO

As a result of the recent independent review, 74 recommendations were made by the independent review team, Turning Moment, to the Tyneside Cinema's Board of Trustees. These recommendations have been accepted in their entirety and will be implemented in full over the next 18 months.
Of the 74 recommendations, 64 have been made available to the Interim CEO and the Senior Leadership team (SLT) who will work collectively with colleagues across the organisation to implement them over the next 18 months.
The remaining 10 recommendations are protected by anonymity (as stipulated by Turning Moment) and will be actioned by the Board of Trustees who will report on progress as appropriate.
The recommendations are divided into key themes:
Health, Safety & Wellbeing
How will we work with them?
The detail of each individual recommendation has been thoroughly reviewed by the cinema's senior team, and a timebound action plan for implementation has been developed to prioritise activity and to track progress of all recommendations. This plan has been shared with the Tyneside Cinema team.
What progress has been made so far?
We have made progress in the following areas:
Delivery of diversity and inclusion training, Health and Safety training, safeguarding and dealing with difficult customers.
Established a permanent HR function within the organisation.
Completed a series of risk assessments and delivered a re-induction for all team members.
Carried out a review and made subsequent improvements to the Health and Safety management system and developed training in support.
Improved internal communications and processes.
Formed a Staff Community Group to provide an opportunity staff to understand what is happening in their business as well as consultation and participation in topics of importance to both the team and the business.
Provided a dedicated support service facility for all team members.
Improved governance between the Board of Trustees and the Senior Leadership Team.
Made a tangible commitment to transparency with the cinema's staff, with the 64 recommendations being shared with the staff body, who will be closely involved in their implementation.
We remain committed to continuing to implement the series of recommendations over the short, medium and long term and to providing ongoing summary updates on progress. Whilst we cannot undo the past, we can learn from the findings of the review and ensure that our present and future team is safe, supported and their voices are heard in their place of work.
We respectfully ask that the cinema's Management Team and the wider team be permitted to continue progressing internally with the recommendations, and that our people are respected in their roles at the cinema. We have a duty of care to ensure their protection and to support every member of the team, many of whom have been greatly affected by the published review, its findings and the resulting reactions.
Any questions relating to the recommendations can be sent to trustees@tynesidecinema.co.uk or simon.drysdale@tynesidecinema.co.uk

Today we shared findings & recommendations of the independent review with current staff and former staff who contributed to the review.
Read the findings and the response from the Board of Trustees.
Trigger Warning/Content Warning: sexual harassment, assault and abuse

Frequently Asked Questions
Why haven't you published the full report and the full set of recommendations?
​An important principle in a review such as this is to provide contributors with the confidence that what they disclose will remain fully confidential.  Only under these circumstances will people feel safe to speak openly about the issues that have affected them.  Some of the issues that were shared with Turning Moment during the course of the review were extremely sensitive and personal. It was therefore essential for Turning Moment to protect the identities of all contributors and ensure their comments were anonymised. Even with this level of protection in place, Turning Moment have a clear and legal duty to ensure that contributors' contributions remain confidential and that those individuals cannot be identified. Only Turning Moment know who contributed to the review. Both Turning Moment and the Trustees take this principle extremely seriously. For this reason, the full report cannot be shared with anyone other than the Trustees.
Why was the report not published immediately upon being made available to the Trustees?
The Trustees received the full report and executive summary on the afternoon of Monday 19 October.  The full report is a 257-page document which we needed to read and digest, alongside the executive summary, in order to be able to speak to its findings when they were made available to staff, stakeholders and the general public.  We needed a short amount of time to be able to do this.
Did the Chief Executive and/or Chair know what was in the report before it was published?
No one outside of the Turning Moment team had sight of the report before it was published to the Board of Trustees.
Why did the Chief Executive and Chair resign?
The Chief Executive and Chair both recognised that, in order to give the Tyneside Cinema the best opportunity for future success, it was right that they both move aside and allow a new team to take over.
Why haven't all the Trustees resigned?
One Trustee resigned when the allegations were raised in the summer and the Chair will leave now that the report has been published. Another Trustee is coming to the end of their tenure. The remaining Trustees are committed to the future success of Tyneside Cinema and want to help by implementing the recommendations and building bridges with all of the Cinema's staff. The Board will be reviewing the make-up of the Trustees and will move in 2021 to consider changes needed in response to the review.
Why was the Interim Chief Executive position advertised before the report was published?
In a charity, the Chief Executive is the key point of contact for the Trustees and is also responsible for leading the organisation, making decisions and managing relationships with stakeholders and the charity's beneficiaries.  The Cinema therefore needs to appoint a new Interim Chief Executive in order to be able to fill this role and move forward with implementation of all of the report's recommendations.
Did the review consider alternative leadership models or structures?
The scope of the review was focussed on 'the organisation's people policy, practice and culture, and its relationship with/impact on leadership and employee experience at all levels'. It did not, therefore, consider alternative leadership models or structures.  Given the findings of the report, the Trustees do not consider it the appropriate time to consider alternative business structures.  However, they have committed to listening to the staff and will consider any suggestions they make in future in this regard.
Is Tyneside Cinema now a safe place to work?
With immediate effect the Cinema takes a zero tolerance to any abuse or behaviour that makes employees and customers feel unsafe. Solving the safeguarding issues is the number one priority of the Cinema; this comes above all else. The Trustees will be ensuring that the management team enact immediate change to that effect in order to be able to reopen the Cinema.
How can we know that the recommendations will be implemented? How will you be publicly accountable?
The Trustees fully accept the findings of the review and are committed to implementing all of the recommendations.  We are committed to working tirelessly with the new management team to enact genuine change and we will issue public updates every three months on how we are progressing the implementation of all of the recommendations.

Please see the update below from the Chief Executive and the Chair.
Further to this statement, we would like to clarify that Tyneside Cinema will not be reopening until the report and recommendations of the independent review have been published.
Statement
Tyneside Cinema Chair, Lucy Armstrong has announced that both she and Chief Executive Holli Keeble will be standing down from their roles at the cinema. Holli Keeble will be leaving in the coming days and Lucy Armstrong will step down as soon as the results of the independent review that has been commissioned have been made public. An interim CEO and Chair will be subsequently appointed.
Commenting on this decision Lucy said "We both recognise that in order to give the Tyneside Cinema the best opportunity for future success it is right that we both move aside and allow a new team to take over.
"We were deeply concerned by the distressing reports of sexual abuse and bullying that we received and those which appeared on social media. In response, I and the Trustees commissioned a rigorous, independent review which will be reporting in the next few weeks and the key findings and recommendations will be made public. The Trustees have committed to implement those findings in full.
"We are also in the advanced stages of our plans to ensure the safe and smooth reopening of the cinema which continues to be our foremost priority. We have kept our key stakeholders informed throughout our decision making.
"As part of our re-opening plans, staff will be involved in sessions to review the conclusions of the review, prior to their release to the public"
Holli commented, "We have worked hard to put the framework in place to sustain the future of the Tyneside Cinema, and we believe that it is in the best interests of the charity that a new team takes these plans forward.
"I know I speak for us both when I say that our priority has always been to see the Tyneside Cinema as a safe, welcoming space for everyone. Undoubtedly, serious mistakes have been made and the review is looking at every aspect of people's experiences both past and present, to learn those lessons.
Lucy said, "Putting a new team in place to take the organisation forward and implement the recommendations of the review will take some time, but we believe that the result will be the thriving, and inclusive Tyneside Cinema we all want to see."