Melting Pot – Limehouse Boxing Academy
Tyneside Cinema worked with a group of teenage boxers from London's East End to produce a documentary that chronicled the history of boxing and immigration in their area. This project, which was five years in the making, was helmed by Lead Filmmaker Alex Ayre from our Learning team, who tells us about the challenges and rewards of such an ambitious endeavour.
It's February 2022, and a group of teenage boxers are about to present their first documentary to an audience at Rich Mix Cinema, in the London suburb of Shoreditch. For most of them, it will be the only film they ever make.
After the screening, I talk to 17-year-old Malachai, from Peckham.
"When you guys first arrived at the gym, I thought this was going to be the most boring thing ever. I couldn't have cared less about filmmaking. But as we started to get into stuff, I realised how important everything in this project was to me. Tonight I was nervous to introduce the film! Because I wanted people to enjoy watching it, as much as I enjoyed making it!"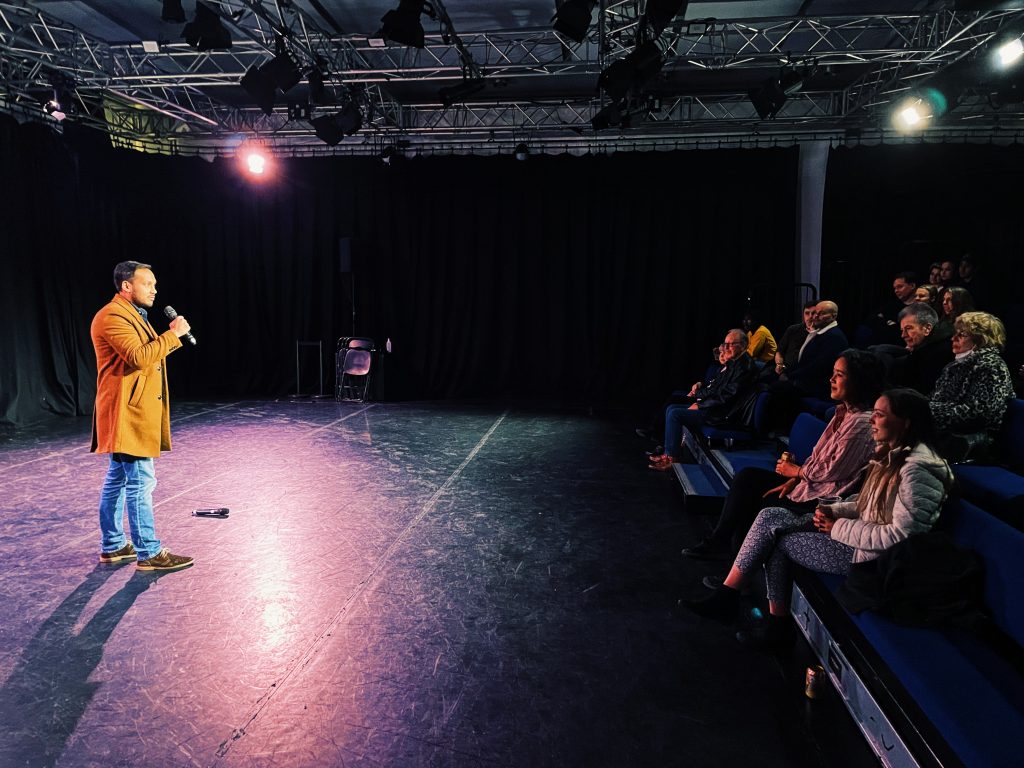 Limehouse Boxing Academy coach Shah Rahman welcomes everyone to the screening.
We journey back to the summer of 2021, when this adventure began. Two colleagues and myself were faced with the daunting prospect of delivering Tyneside's first in-person learning project since before the pandemic. Limehouse Boxing Academy had received a grant from the National Lottery Heritage Fund to run a project with young boxers, focused on the historical ties between immigration and boxing in the East End. They decided the best way for the young people to present their findings was in a documentary film, and we were delighted to be brought on board to deliver the programme.
At Tyneside, we run different programmes with young people who are passionate about becoming filmmakers – as a hobby or a career. This project was different. The participants were not aspiring filmmakers. We were not likely to get them excited about learning the history of cinema, or how to film and edit video. For this group of teenagers, their passion was boxing, and they ate, slept, and breathed it. They were embarking on a journey to learn more about the history of their sport and their area, and film was the means by which they were going to communicate their findings to the world. As lead for the sessions, and a documentary filmmaker in my own right, this was an exciting new challenge for me. I am enthralled by the idea that filmmaking can be introduced into, and enhance, the lives of people who ordinarily would never experience it as a process.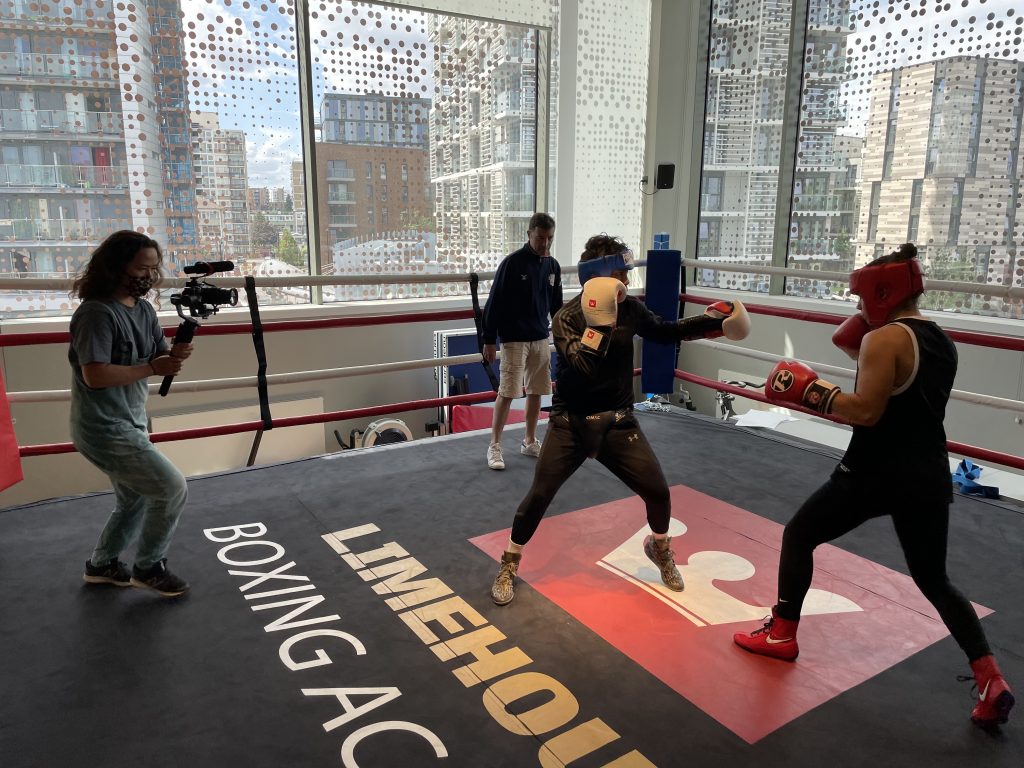 Assistant Filmmaker Saya Naruse films some of the young boxing trainees from the group. 
We looked for ways to link boxing to film, beyond Rocky and Raging Bull. I asked the group about why they loved boxing so much, and why they'd gotten into the sport.
18-year-old Amo, from Bow, talked about his boxing inspiration.
"My boxing inspiration is Muhammad Ali. My dad's dream was to be a world champion. And I remember, when I was little, he showed me a video of Ali's footwork – and that was it for me! I had to become a boxer!"
Amo's recollection of this footage sparked a discussion amongst the group and gym staff about Leon Gast's 1996 documentary When We Were Kings – the film that captured the legendary "Rumble in the Jungle" bout between Ali and George Foreman, in Zaire. Some of the group had seen the film, and we discussed the impact of not only having behind the scenes footage from the build up to the fight, but also of seeing the political impact for the location where the fight was held. This was the starting point we needed to begin making OUR film.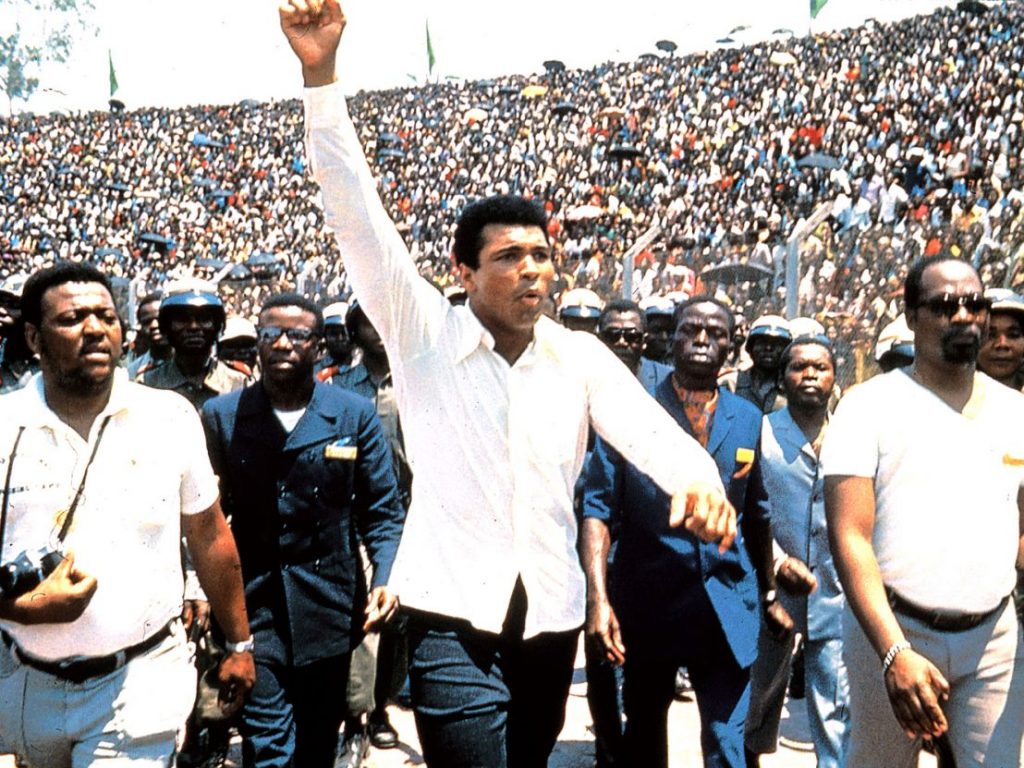 Muhammad Ali in When We Were Kings, 1996 
It's important to note that, although this was a heritage project, the themes we were dealing with in the film were far from "old". We started our sessions just days after the final of the delayed Euro 2020 tournament, and the subsequent racial abuse of several players from the England team. This was on everyone's mind, so discussing the prejudices that immigrant athletes have faced felt like a very contemporary issue.
18-year-old Tom, from Essex, discussed the importance of creating a film in the current climate.
"Everyone in this group is from an immigrant family, so we're not just looking at boxing history for fun. We're shining a light on OUR history, and the history of immigrant athletes."
One of the group's first interviews was with charismatic former British Middleweight Champion James Cook. He discussed how he travelled from Jamaica to London when he was young. His main struggle was the change of climate, and how he'd left the beautiful trees of Jamaica for "a city of bricks and concrete". James also talked about acts of racial violence from police in the 1980s, and how there'd be regular protests on his estate. This, again, struck a chord in contemporary society.
For 17-year-old Lynden, from Peckham, James' visit was a highlight.
"He was so friendly, and you can tell he was proud of what he'd accomplished in and out of boxing. He was even recognised with an MBE!"
The group's next interview was with vibrant former world champion, Maurice Hope, who represented Great Britain at the 1972 Summer Olympics in Munich (the sight of the tragic Munich Massacre). Still bursting with energy in his 80s, Maurice revelled in recalling tales of his time as world champion with the group, and even had time to show off with a few in-ring tuck jumps (while wearing a three-piece suit!) and the reading of a poem he'd written especially for the occasion.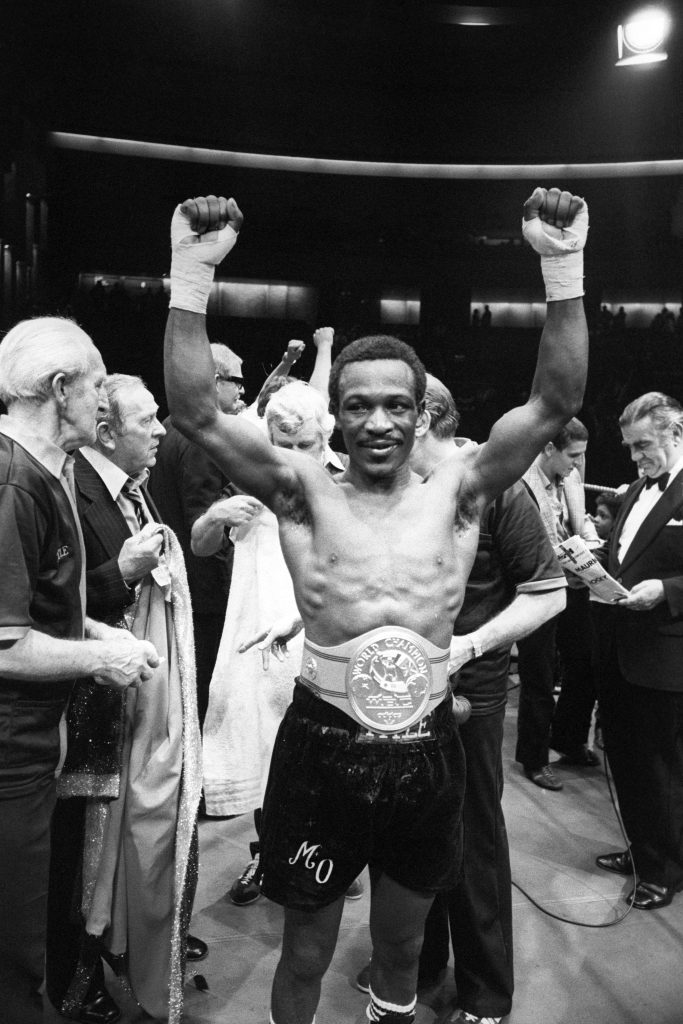 World Light Middleweight Champion Maurice Hope in 1980 © Alamy
18-year-old Vivien, from Brixton, was left informed and inspired.
"Before meeting Maurice, I never would have known that he was the first black British man to win a world title."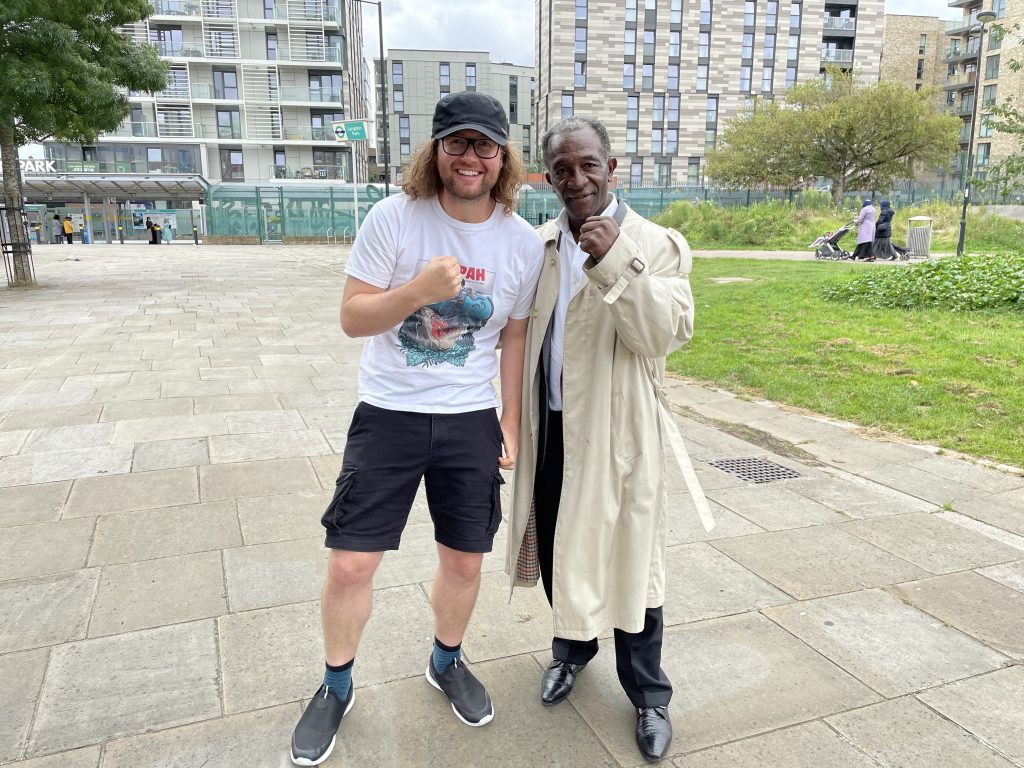 Maurice Hope and myself, after our interview.
As well as conducting interviews, the group also visited the Tower Hamlets Archives. Here, through old maps and photos, they were able to trace the history of their local neighbourhoods, and learn how boxing in the area has changed over the last century.
Moosa, who is 16 and from Mile End, was grateful for the trip to the archives, somewhere he'd never have visited otherwise.
"I just thought of a library as a boring place. I never knew the archives existed, and there was this history here. I loved seeing the old photographs of my street."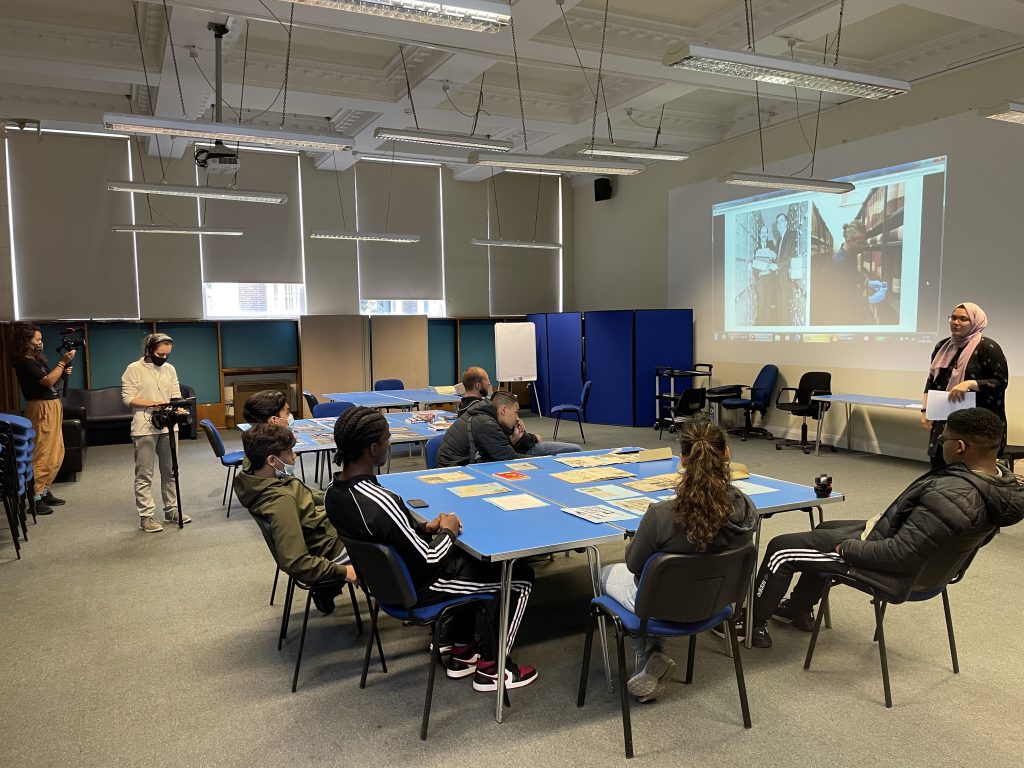 The group visit the Tower Hamlets Library and Local Archives. 
One tragic pocket of history the group were informed about was "the colour bar" – a rule passed down from the British Board of Boxing in the early 1900s that disallowed a boxer without two white parents from competing for a British title.
17-year-old Tyler, from Peckham, was shocked to learn of this.
"It's crazy to think that if I'd been boxing at that time, I'd never be allowed to fight for a national belt."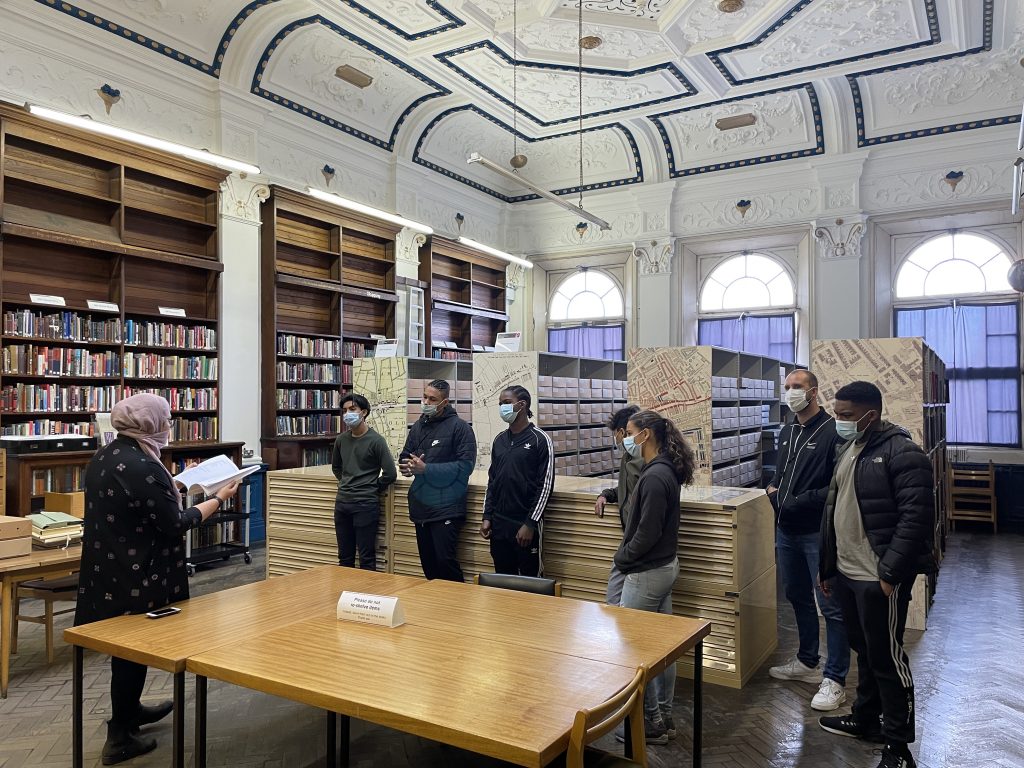 The group are shown the archive storerooms.
After an edit over the winter, the film is prepped for the screening, where families and some special guests join the group. For iron-fisted pugilists, the nerves are surprisingly high. Making a film is not something any of them had planned on doing… but now they've made one, they want people to enjoy it! Thankfully, the film is met with great praise from the audience in the cinema.
Tomorrow, the group will go back to their boxing training. Some of them even have hopes for the next Olympics. They may never make another documentary, but the process of making this one has informed their boxing practice going forward, and opened their eyes to the informative power and social impact that filmmaking can have.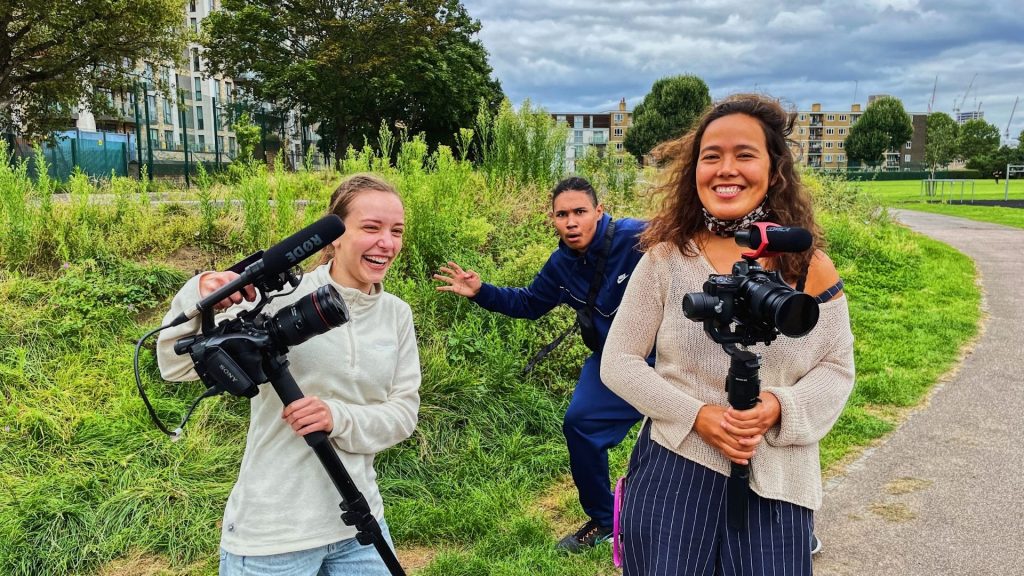 Assistant Filmmakers Saya Naruse and Katie Jenkins are photo bombed by 17-year-old Lynden, from Peckham.
The group's final film, Melting Pot, is currently being submitted to film festivals, and will be released online at a later date.