Reel Recommendations: Collage Films
Celebrating the Jonas Mekas 100! season, this Reel Recommendations list is a tribute to Mekas' rhapsodic film-diary approach. His intuitive and often randomised cutting together of home video footage conjures a humanist collage of the everyday. Rather than launch a more intellectualised journey into the origins and definitions of 'the collage' as a methodology and form within cinema, we have decided to adopt the same intuitive spirit that defines Mekas' work to compile this list.
Arguably, collage in film could be seen as a founding tenet of any editing. Considered one of the first films to use more than one shot, Robert W. Paul's 1898 short Come Along, Do! places an exterior shot beside an interior to create the continuity of characters moving inside: the selective arrangement of different viewpoints to create a newly coordinated visual coherence. It was one of Robert W. Paul's first cameras that enabled 'reverse-cranking' which allowed an image to feature multiple-exposures and therefore overlay one image upon another. One of the first films to use this (innately collaged) technique, was George Méliès' The Four Troublesome Heads (1898). Perhaps a more renown example of early editing (made even more famous through Mark Cousin's phenomenal documentary, The Story of Film, itself a work of documentary collage) is James Williamson's 1903 film  Life of an American Fireman. Comprised of nine shots, Williamson's use of cross-cutting allowed a plot to develop and action sequences to occur, using the positioning of one shot beside another to suggest events happening at the same time. Consequently, collage (from the French word coller meaning 'to glue' or 'stick together') is foundational to cinema's most basic grammar of meaning.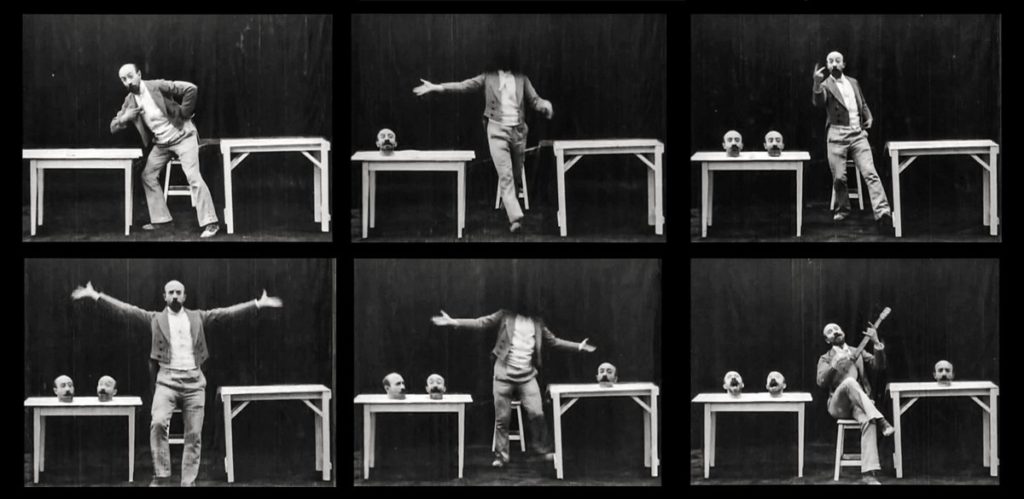 It could be argued that, what collage is to space montage is to time. The filmic technique of montage, in which shots are quickly edited together to condense information  (combining spatial and temporal detail) was further pioneered by Sergei Eisentsein and the political poetics of Soviet Montage Theory. We are not meandering into that territory but instead, as mentioned, embarking on an intuitive list that prioritises films that seem to connect (however loosely) with the concepts or methodologies of collage as a practice that collects, arranges and 'sticks together'. This is the first part of a two-part list, the second 'shot' will arrive at the end of the Jonas Mekas 100! season. Go and see his wonderful films on the big screen while you can – each film is a joyous, contemplative diary: a life of moments rearranged in the lyric connection of each glimpse.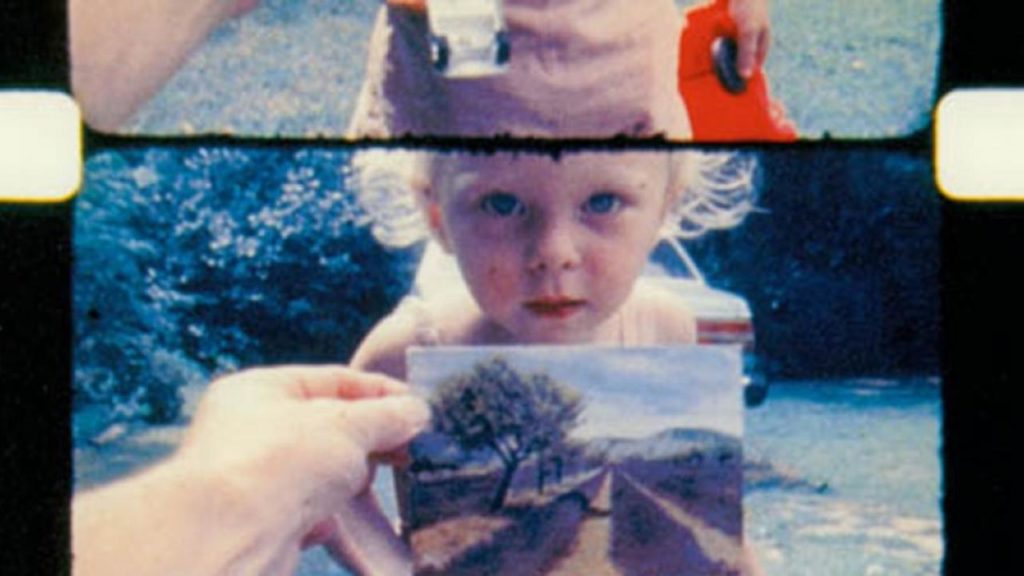 Rose Hobart (Joseph Cornell,1936)
Joseph Cornell was a uniquely eccentric American artist, renowned for his 'shadow boxes' in which he would meticulously arrange found objects (toys, shells, trinkets of bygone Hollywood glamour) to craft a poetic space that sits somewhere between a 'cabinet of curiosities' and the symbolist poetry of nostalgia and obsession. It was a three-dimensional collage impulse that he then brought to his experiments in film. Rose Hobart takes the Pre-Code jungle-caper of East of Borneo (1931) and re-cuts it as a haunting tribute to its lead actress (the eponymous Rose Hobart); he then filtered the film's latent eroticism through a dreamy, midnight blue.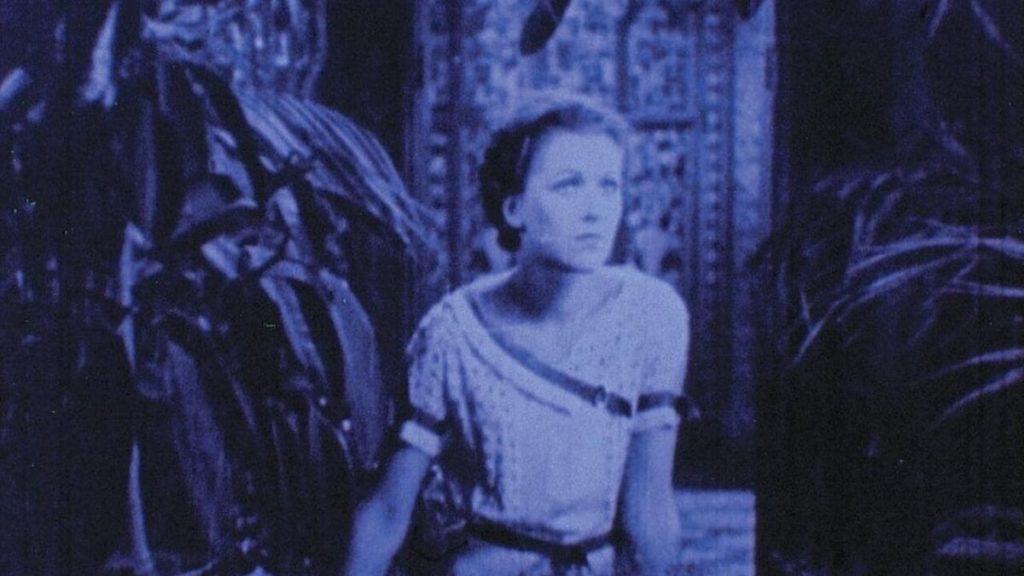 The Fabulous Baron Von Munchausen (Karel Zemen, 1962)
Combining stop-motion animation, puppetry, live-action and a Victorian spirit of magical antiquities, toys and adventure, Karel Zemen may not have been wed to the methodology of collage but it was inextricable from his multi-media wizardry. Proving to be a lasting influence on stop-motion animation and filmmakers as varied as Jiří Trnka, Jacques Demy Terry Gilliam, Guy Maddin, and The Brothers Quay, Zemen's style fused the theatrical wizardry of George Méliès with the traditions of Czech and Slovak puppetry. Sets for The Fabulous Baron Von Munchausen not only collage the cut-out illustrations of Gustave Doré but also recreate their dexterous cross-hatching on a larger cinematic scale. Each film is a journeying fantasy of child-like imagination, folkloric invention, eccentric storytelling and, beneath it all, the restless enthusiasm of a collage artist.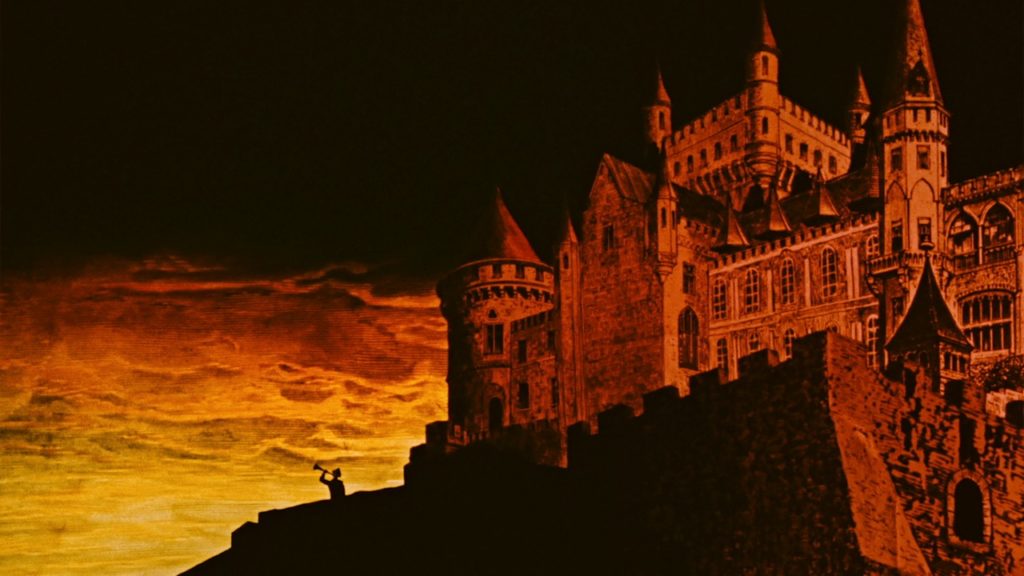 Heaven and Earth Magic (Harry Everret Smith, 1962)
Given its title by filmmaking legend of the avant-garde, Jonas Mekas, Heaven and Earth Magic, is a black and white, experimental cut-out animation that delves through absurdity and the occult to create a delightfully weird and collaged cosmos. Harry Smith is perhaps best known for his influential recordings for the Anthology of American Folk Music, but he was also a pivotal cultural figure in the Beat generation, a mystic, filmmaker and avid collector. The pleasingly unorthodox plot of Heaven and Earth Magic was summarised by Smith as follows: "[t]he first part depicts the heroine's toothache consequent to the loss of a very valuable watermelon, her dentistry and transportation to heaven. Next follows an elaborate exposition of the heavenly land, in terms of Israel, Montreal and the second part depicts the return to Earth from being eaten by Max Muller on the day Edward the Seventh dedicated the Great Sewer of London."
Just your regular 'beginning, middle and end' voyage into hermetic chaos…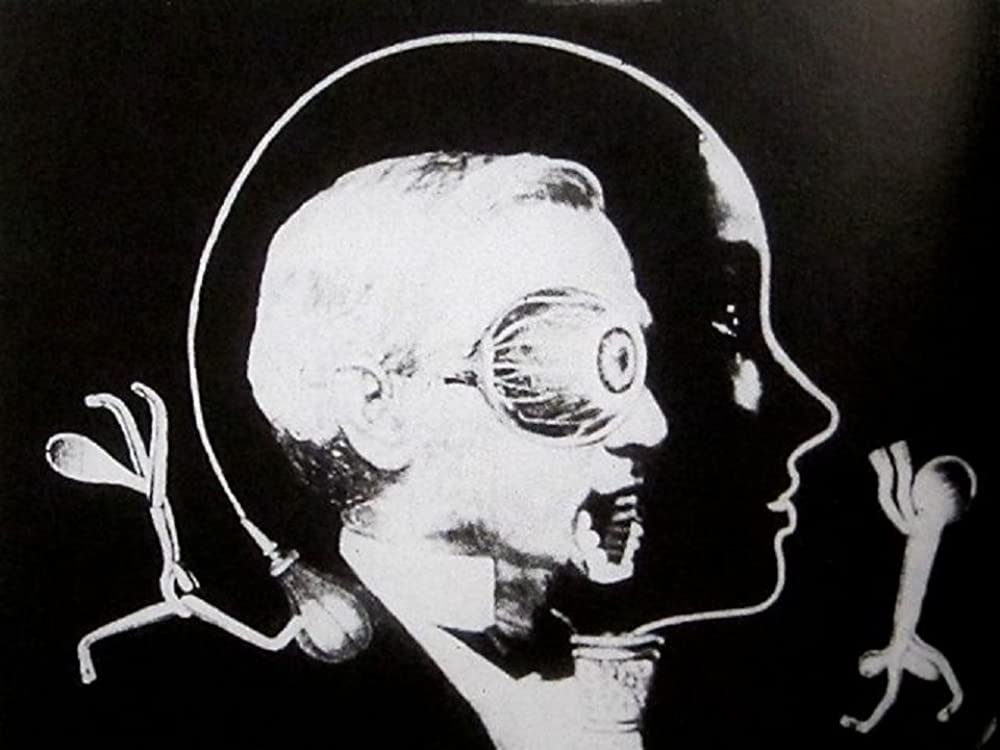 Mothlight (Stan Brackhage,1963)
A pioneer of the American avant-garde, Brakhage is known for his direct painting onto celluloid to create hallucinatory intensities of colour and superimposition as a kind of gnostic diary-keeping of light, flesh, family and vision. The feverish pace of many of his films draws on the spliced collage of retinal bursts and the busy magma of overlay but, in the short Mothlight, the collaging impulse became even more direct. The film is made without a camera from literally pressing moth-wings, flower petals and blades of grass to 16mm splicing tape.
Newsreel of Dreams (Stan VanDerBeek, 1963-4)
Multiple projection, collaged news footage, and the frantic speeds of city-life re-imagined as the cigarette of Beat lyricism stubbed out into paranoid abstraction, manic colours and the horrors of Viet Nam. Watch alongside Breathdeath, made in the same year.
Free Fall (Arthur Lipsett, 1964)
Beginning with an interest in textured soundscapes through collecting fragments of audio, the Canadian experimental filmmaker Lipsett went on to influence and gain praise from the likes of Stanley Kubrick and George Lucas for innovatively edited films that moved between dark satirical irony and comical levity. In the found footage, magazine images and cultural detritus of Lipsett's aesthetics, the sonic and visual rubble of history and media collide in bleak hypocrisies and hypnotic rhythms.
Cineblatz (Jeff Keen, 1967)
Outsider artist of breakneck collage experimentations in film, art and poetry, Jeff Keen was a uniquely English one-man-band of the avant-garde. His style is best understood with the same pace and spliced plasticity of his homespun kinetic energy:
Art-brut from deep in the amusement arcades /scatological / cassettes/ violent / playful / speeding on / ever-lit fuse / dizzying /gunshot / clutter hawk / barbie melts / dust hound / camera shooting, shooting, shooting into the flamed mess of plastic with the cross-eyed glee of a pyromaniac let loose on an Ed Wood set / creating so much and destroying more / until all is kaleidoscopically forgotten / looping in paint séance with the viscera / strobe / goop and treasured debris of DIY optical surgery / light flickering / in the seaside lab of DR. GAZ!
Cineblatz is just 1min57…but whole pop-art broadcasts burn in and out of faltering transmission in this cut and paste micro-odyssey.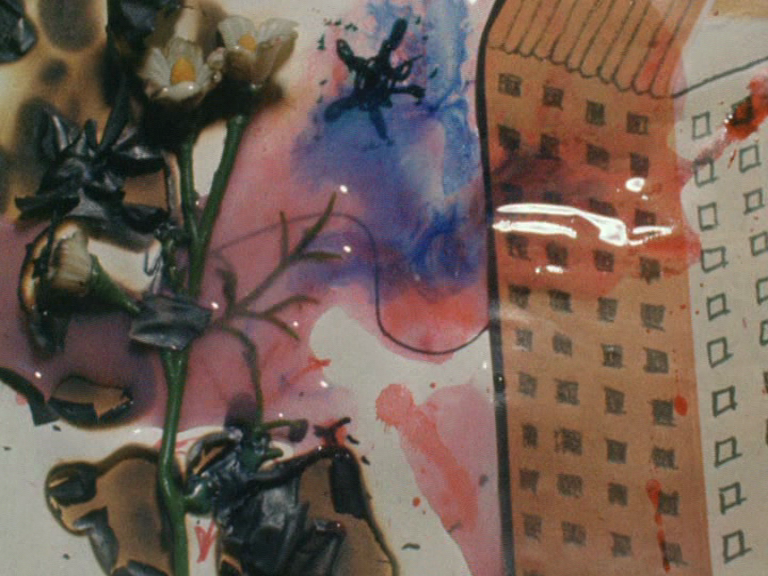 Our Lady of the Sphere (Larry Jordan, 1969)
Between the atmospheres of Joseph Cornell and Max Ernst's graphic novels, with the enchanted wonder of Karel Zemen and the eccentric alchemy of Harry Smith's Heaven and Earth Magic, Larry Jordan's mystical short is an exquisite stop-motion carnival of cut-out Victorian engravings, deep-sea divers, bright colours and whirling stars.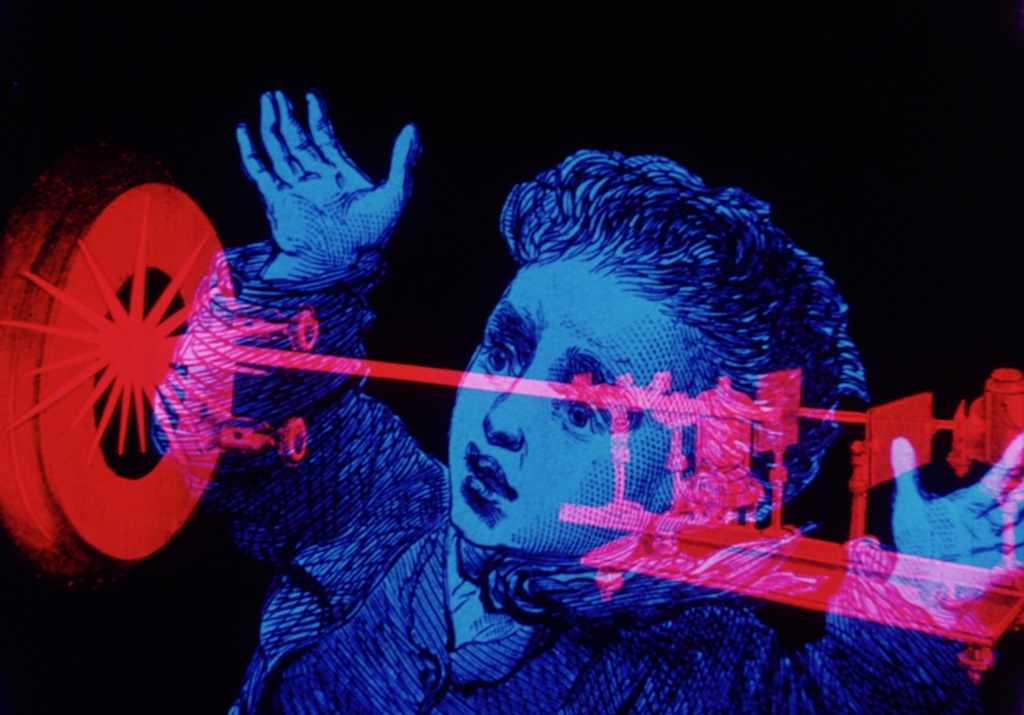 Reassemblage (Trinh T. Minh-ha,1982)
Trinh T. Minh-ha is a Vietnamese filmmaker, literary theorist and composer whose first 16mm film, Reassemblage takes footage shot in Senegal to create a kind of documentary collage that refuses to impose an evaluative system of meaning or narrativized message upon the images, aiming instead: "not to speak about/Just speak nearby".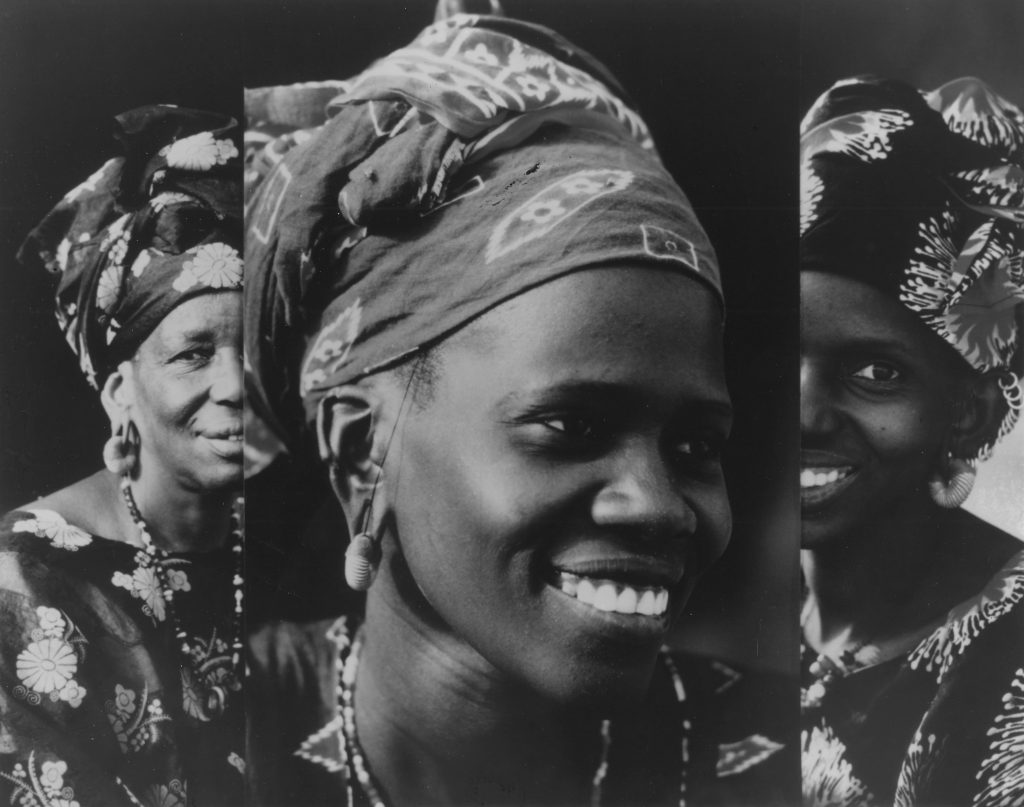 Sans Soleil (Chris Marker, 1983)
Stitching together a contemplative travelogue of memory through stock footage, Japanese film /media and his own footage, Marker utilized eclectic collaged aesthetics to expand the possibility of what could be communicated in, and as, film: allowing the (dis)arrangement of footage, voiceover and sound to become the basis for a dreamy essay-film or a kind of ambient documentary. In Marker's composition, time and place are fluctuating coordinates of that blur between global travel and an internalised travelling of thought and memory.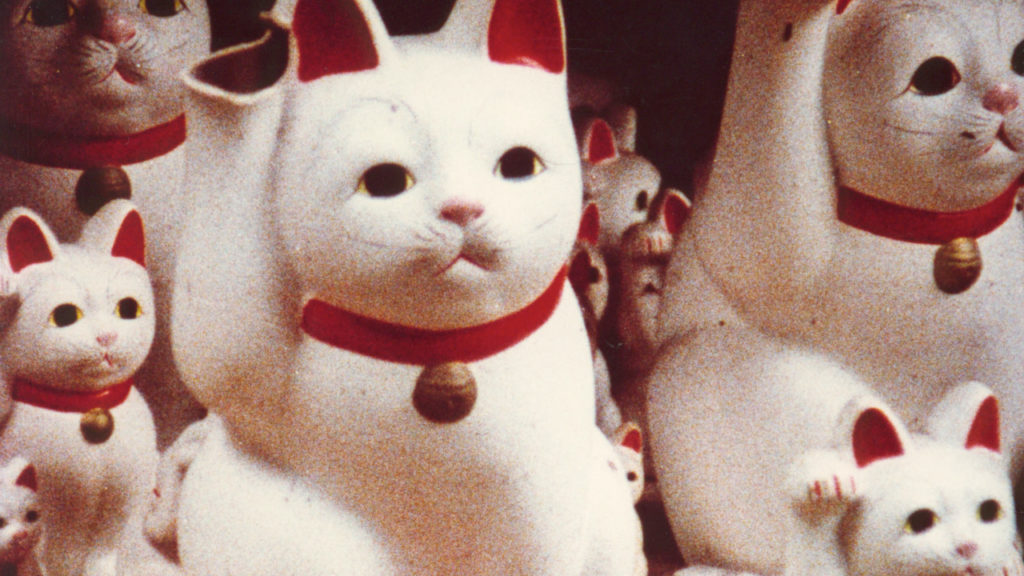 Is This What You Were Born For? (Abigail Child, 1983 – 1989)
Deeply enmeshed in her work as a poet (associated with the American movement of Language poetry that brought politicised aspects of post-structuralism to bear on the materiality and syntax of meaning), Abigail Child's epic seven-part experimental epic prioritises the experiential and semantic present of process-as-content in a dense, playful and aggressive cut-up of film material. The title is from an etching by Goya and the returning thematic drive of each film (though any 'theme' becomes a disruptive confrontation of 'theme' as a structure of codified power and hierarchical valuation) is an investigation of aggression in the late twentieth century. Is This What You Were Born For? is a volatile archelogy of film as a process of convulsive rhythms and repetitions that interrogate and generate ways of meaning.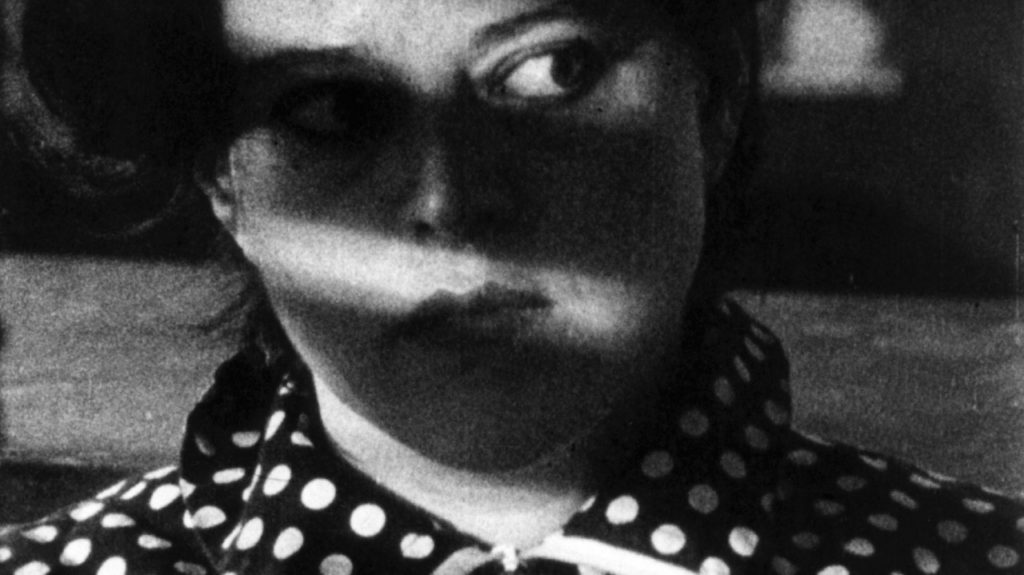 Handsworth Songs (John Akomfrah,1986)
"There are no stories in the riots, only the ghosts of other stories."
The Black Audio Collective, founded in 1982, was comprised of seven Black British and diaspora artists who went on to make some of the most astounding, poetic and politically vital films in British history. Combining the collaged materials of newsreel, archive, personal testimony, poetry, documentary and experimental filmmaking, The BAFC addressed racism and social unrest in Britain. Drawing on recent developments in critical theory (specifically the work of Stuart Hall and Homi Bhaba) alongside poetry and art, the films confronted police violence, post-colonialism, poverty and the insidious and brutal realities of racism in 80s Britain. All of which still feels devastatingly prescient. Handsworth Songs explores the racial tensions behind the riots in Handsworth and London in 1985. The racist politics of the Thatcher government, police violence and widespread unemployment are all seething legacies active and corrosively present in contemporary Britain. John Akomfrah's stunning film is able to use the politicised fragmentation of collage to undermine false narratives pushed by the British media and to equally explore memory, history and representation in this haunting masterpiece.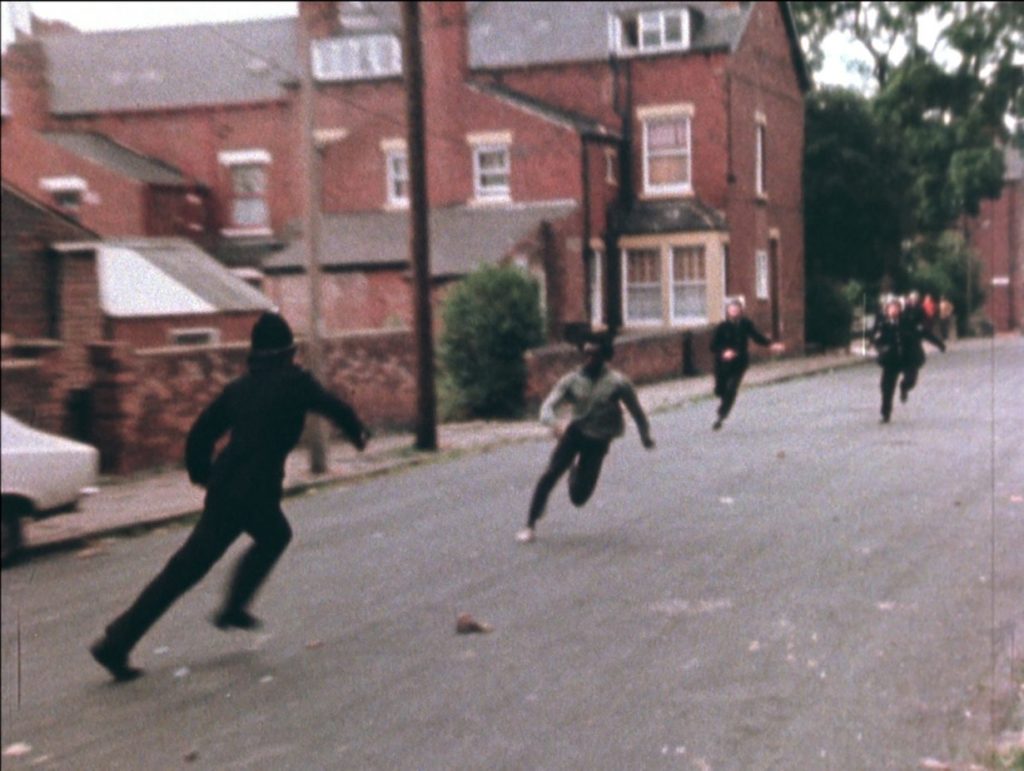 Histoire(s) du Cinéma (Jean-luc Godard, 1988-1998)
A vast and dense work of historical enquiry, Godard's Historie(s) du Cinema is an extended and dexterous act of collage and quotation that explores the concept of cinema and the varying paths, theoretical and applied, that defines its presence and role(s) within the 20th Century.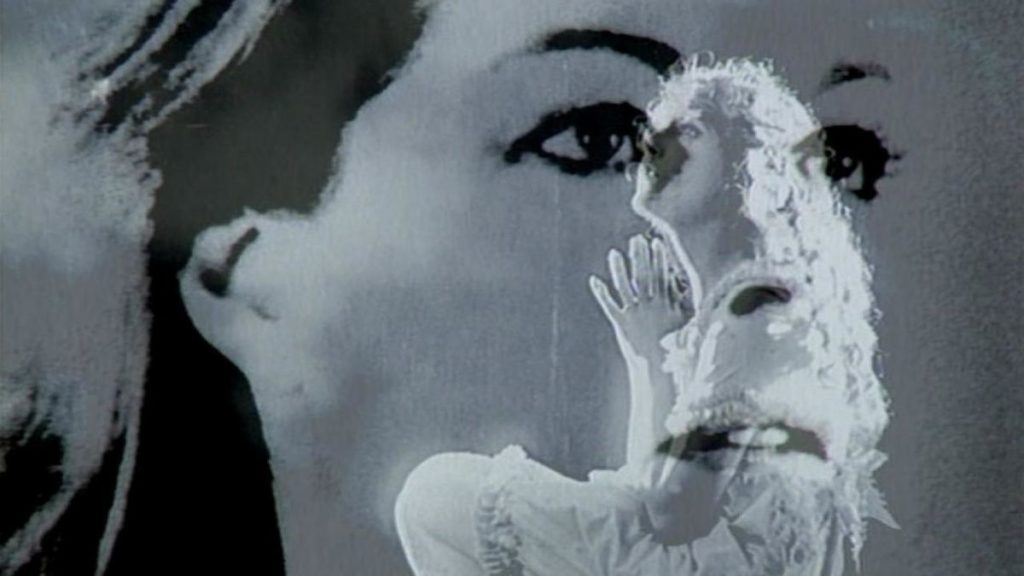 Tribulation 99 (Craig Baldwin, 1992)
In this bizarrely dazzling and mischievous act of high-wire collaged conspiracy, Craig Baldwin creates a psychotronic tapestry of re-purposed film clips and images to explore alien invasion, hollow earth theories and nuclear power.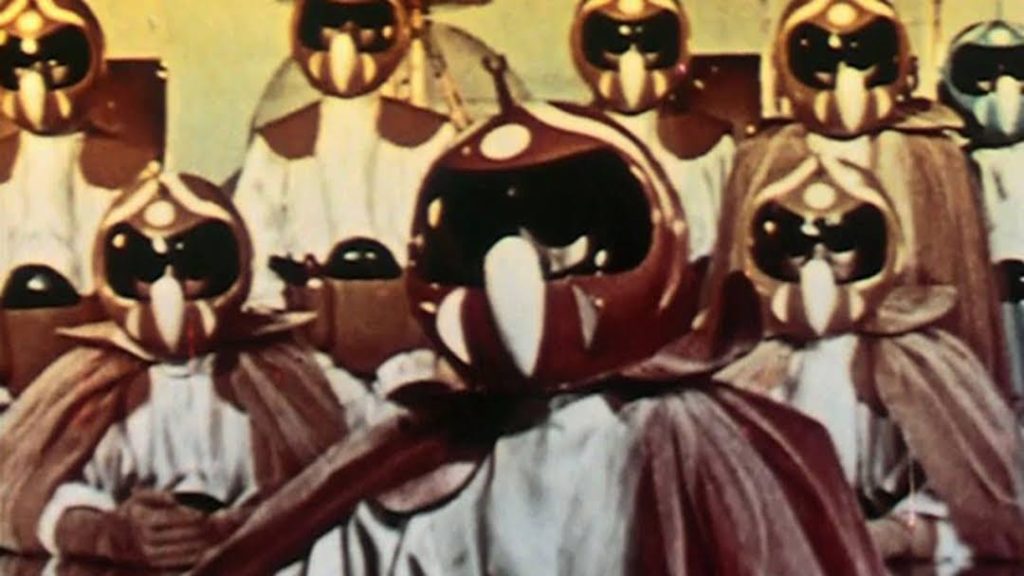 Nitrate Kisses (Barbara Hammer, 1992)
In the first experimental feature from pioneering lesbian filmmaker Barbara Hammer, tactility, queer sex and the archive intermingle as the film explores historical trauma alongside a celebration of queer desire and pleasure. What emerges is a powerful work of cross-historical intimacy, erasure and defiant preservation.