The Mirror of Cinema: Autobiography & Autofiction in film – Part 1
In celebration of the release of The Souvenir Part II, and director Joanna Hogg's visit to Tyneside Cinema, we shine a spotlight on filmmakers who ingeniously drew upon their own experience to inform their astonishing work, deftly blurring the line between candid autobiography and absorbing fiction.
The Mirror of Cinema: Autobiography & Autofiction in film - Part 1 takes a look at the bewildering world of Canadian visionary Guy Maddin's '
Me Trilogy
'.
Guy Maddin's 'Me Trilogy'
The Canadian filmmaker Guy Maddin is one of cinema's rare visionaries for whom the importance of narrative and bold visual experimentation do not become oppositional stances but inhabit each other, each amorously haunted by the mythologizing impulse of cinema history and personal history: a mischievous séance of self and film. Often drawing from the world of silent cinema, his films are not venerations of the retro or nostalgic acts of homage but vibrantly living examples of the realisation that much of cinema's vocabulary has been wrongly dismissed as 'outmoded' or neglected by an industry that too often equates technological progress with artistic progress.
Consequently, Maddin's films are often edited with a feverish eye for the editing grammar of early cinema. They wheel and cut with the giddy montages of Abel Gance's J'accuse (1919) and the quick-cut ambition of La Roue (1923) or, in Maddin's award-winning short, The Heart of The World (2000) merrily resurrect the frenzied poetry of soviet montage. Much of his innovative spirit came from a desire to embody the punk Surrealism of early Buñuel, alongside an equally surrealist appreciation of popular films that many avant-gardists would spurn; this was all mixed in with literary inspirations (Robert Walser, Bruno Schulz and Flann O'Brien, amongst many others), a deep love of cinematic melodrama (from Josef Von Sternburg to Douglas Sirk) and a deprecating self-mythology that is equal parts Freudian neurosis and Euripidean drama. All of which might sound bewilderingly intense, but throughout these influences and obsessions Maddin keeps hold of an absurdist humour that graciously peppers the melancholy and madness with eccentric levity and wit. And so, on to the 'Me' trilogy….
Cowards Bend the Knee (2003)
Originally viewed as part of an art installation – playing ten short Super-8 films behind peepholes cut into a gallery wall – it was then released as a glorious black and white feature that twists a hysteric tale of the fictional 'Guy Maddin' jumbled into recollections of his home town of Winnipeg, tragicomic acts of spiralling self-sabotage and cinematic resurrection (fusing elements from Maddin's rumoured 1995 TV movie, 'The Hands of Ida' with Robert Weine's 1924 amputation classic, The Hands of Orlac).
The viewing experience is relatively comparable to having one eye drilling into a swampy cortex of muddled memories, myth and melodrama, while the other is squinting through a dreamy keyhole to reveal a feverish tale of hockey and homicidal desire… each wrapped in a frenzied retelling of Euripides' tragedy, Medea. Aching with the raw and untidy debris of scampering desire whilst also obtaining a dream-like rhythm of ghostly memory, the film is a confessional streak through Maddin's heightened inner life, re-imagined as autobiography. Caught between confessional guilt and rapturous dream, the film enacts a form of speculative recollection in which amnesia and the charged recovery of certain memories becomes a uniquely voyeuristic journey… bringing renewed intensity to the notion of 'inward-looking'.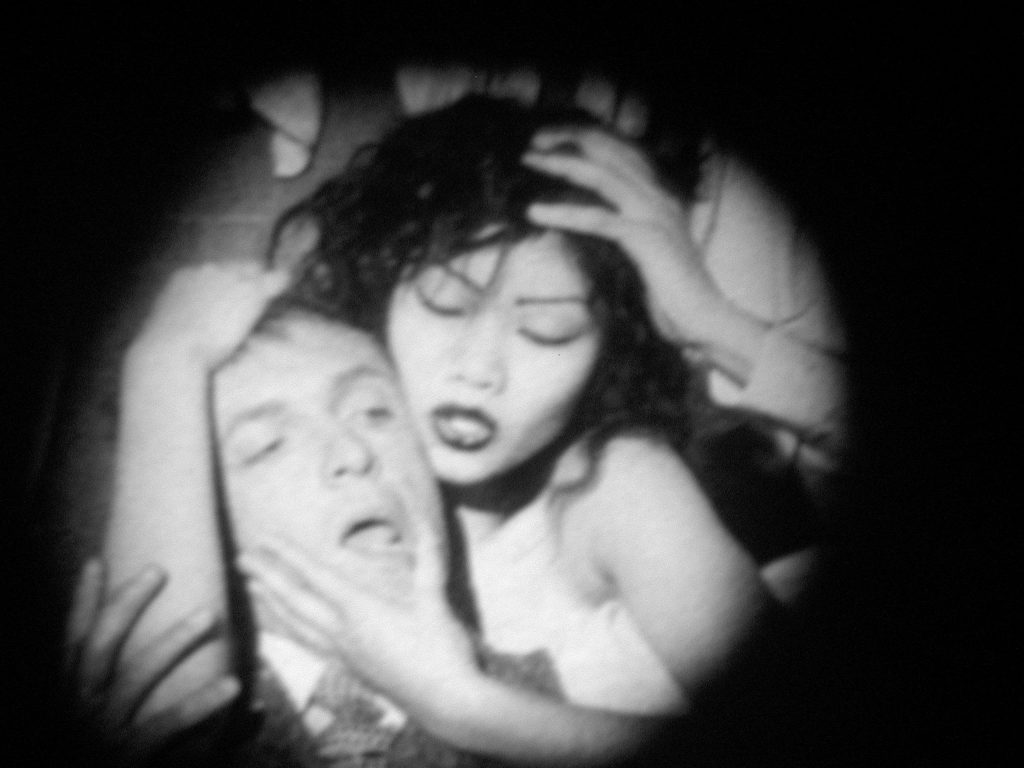 Brand upon the Brain (2006)
The self-mythologised, and mythologizing, 'Guy' continues into another filmic fog of family and cinema history, spurring his own fictionalised self-as-protagonist into a gothic-inflected tale set in a lighthouse in the deep recesses of memory. Drawing on his own past (scenes of him painting coat after coat on the internal walls of the lighthouse resonate with his own early work outside of filmmaking in odd jobs that here begin to suggest a palimpsest of time: what is forgotten and covered up, what we choose to remember – painting stories of, and across, our own interiorities) the film exists within shifting tides of repression, nostalgia and the drawn out erotics of savouring an image in, and as, memory.
Alongside Maddin's lyrical obsession with the strange textures of remembering, the film's vibrantly imaginative narrative plunges into cinematic memory: tangled plots of masked detectives and young love evoke a giddy interweaving of Louis Feuillade's Fantomas (1913) and Jean Vigo's Zero de Conduite (1933) with the mournfully comic sigh of childhood that infuses René Clemént's Forbidden Games (1952) with its uniquely sad and humorous atmosphere; an orphanage in a lighthouse and a sinister laboratory manned by a father that refuses to die suggests a scenario in séance with the spirit of Tod Browning via Robert Corman; and the black and white dynamism of Maddin's cinematography again calls back to the more experimental edges of the Silent era. Originally the film travelled as a kind of theatrical event, complete with Foley artists and an orchestra, with the voiceover of 'Guy' provided by: Isabella Rosselini, the poet John Ashbery, Laurie Anderson, Crispin Glover, Louis Negin, Eli Wallach, and Maddin himself.
Under the watchful eye of a stern matriarch and beneath the sweeping illumination of a lighthouse at the troubled shoreline of forgetting and remembering, Maddin whips up a Gothic fable of childhood, adolescence and the return of the repressed. A remarkable feat of imagination, this timeless surrealist song of time is a tribute to the movement of memory between family and film.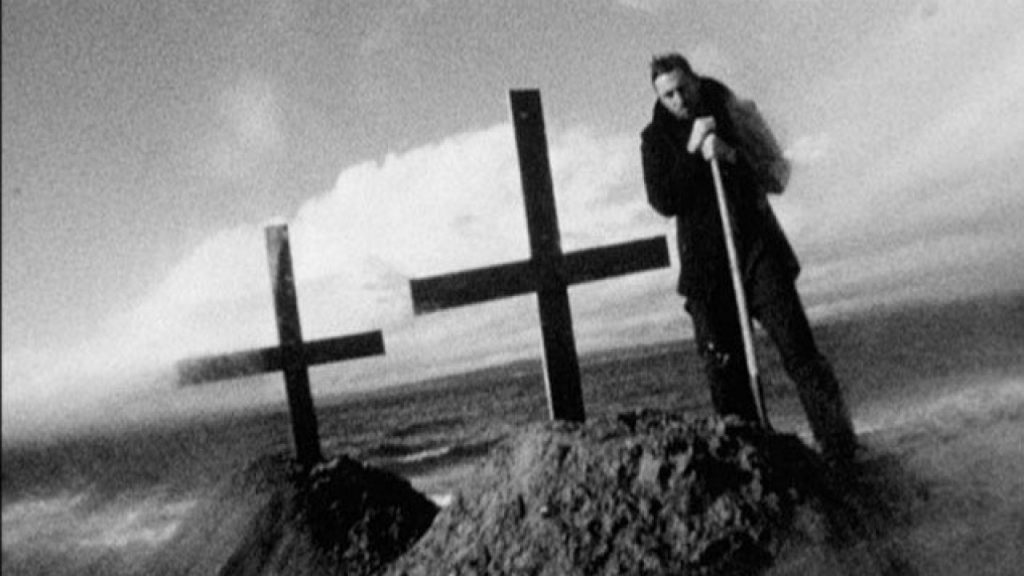 My Winnipeg (2009)
Perhaps the most well-known of the 'Me trilogy' and arguably the most accessible point of entrance to Maddin's world, My Winnipeg is a snowy docu-fantasia that brings mythmaking into the bizarre histories of his hometown of Winnipeg, and with those histories the more personal recollections of family memory. Local and speculative history intertwine with more occult wanderings to conjure a spiritualist cartography of filmmaking, offered to the viewer like sleepwalker's map: to (mis)direct a dreamily uncovered path to long lost addresses, each return uncanny with a nostalgia for someone else's past.
Between the lovingly tuned static of fact and fiction, melancholy clouds in and out of the imaginatively bizarre crafting of a maybe-history: we are told of horses that escape a burning racetrack and drown in the Red River, only to reappear each winter, their frozen heads emerging from the ice like grotesque chess pieces; the city's history of Spiritualism and a literary visit from the infamously spiritualist – creator of Sherlock Holmes – Sir Arthur Conan Doyle in 1923; a train that is always leaving but that can never leave, in which the interrupted sleep of Guy nods in and out of consciousness; a fictional hockey team, a faked Nazi invasion, re-enactments of family drama and the always falling snow. The snow in which what still exists and what is gone, what has left and never leaves, for Maddin, becomes a beloved but troubled sleep: the cherished ghost story of memory that, in its collapse of past and present, becomes the trace of time in motion that defines film.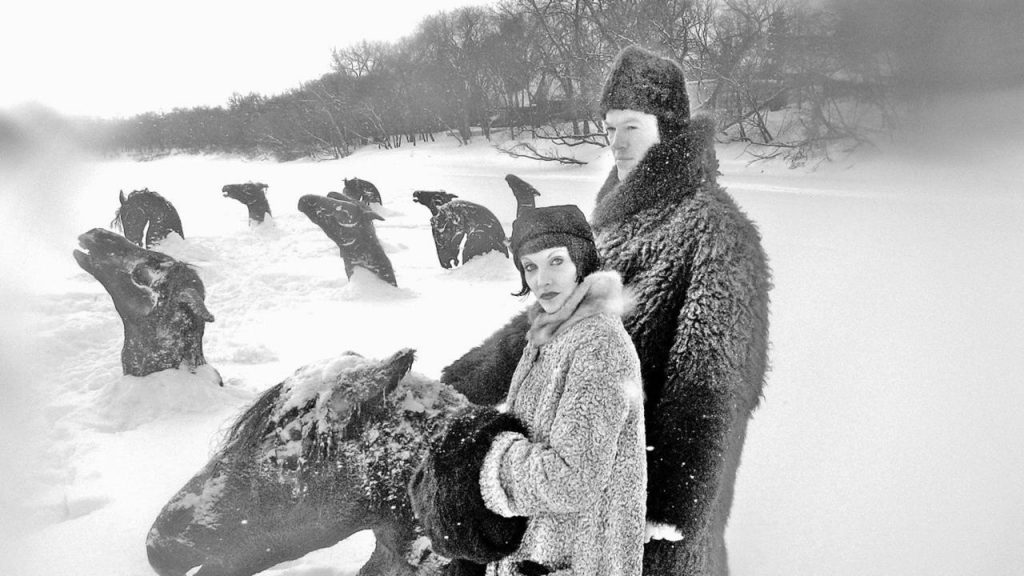 Visit our Letterboxd list here.