Top 5 Films We Caught at Berlin Film Festival
In February, our team attended the Berlin Film Festival to look for the best new films to bring to Tyneside Cinema audiences later this year. Here, our Head of Film Andrew Simpson runs through his five highlights from the 2023 line-up.
Past Lives
Celine Song's debut feature was the talking point of the Berlinale after its rapturous reception at Sundance, and it's easy to see why. Two childhood friends growing up in Seoul are separated when one of them emigrates with their family to Canada. Twelve years later, aspiring playwright Nora (Greta Lee) is trying to make it in New York. Reconnecting with Hae Sung (Yoo Teo) after a chance internet exchange, there's a hint of something …a shared bond through memory? Friendship? Romance?
These questions will only find their answer another decade later, when Nora and Hae Sung finally meet again. More than a little reminiscent of Richard Linklater's Before Trilogy, this elliptical story of longing and unanswered mystery is carried by a collection of soulful performances – praise goes to John Magaro as one of cinema's most sympathetic third wheels, and especially to Lee, who graduates from scene-stealing turns in the likes of Russian Doll to an awards worthy lead performance, here. A haunting evocation of how all of us contain other, possible selves, tragically lost to moments in time, this is one of the year's best, and will be a big player in the Oscar race next year.
Past Lives will be released in cinemas by Studio Canal later this year.
BlackBerry
The giddiest rush of this year's festival came from BlackBerry, a riotously fun portrayal of the rise and fall of the original smartphone. Forgoing the studied psychological drama of The Social Network for a more in-your-face, freewheeling satire, director Matt Johnson takes the energetic mixed media palette of his previous films The Dirties and Operation Avalanche and uses it to craft an often-outrageous story about the cutthroat world of American capitalism.
Jay Baruchel (This is the End) plays Mike Lazaridis, a tech Wizkid stuck working out of a dingy office in Waterloo, Ottawa in the early 1990s. Servicing small computing contracts whilst his employees play video games, Mike has actually invented the world's first mobile email device. There's just one problem: he can't get a meeting. When a connected local businessman named Jim Balsillie comes on board, the stage is set for a tech revolution that will change the world, before hubris, financial crimes and a new-fangled thing called the iPhone bring it all crashing down. Brash personalities and high-risk wheeler-dealing drive the action here, and the undoubted MVP is Glenn Howerton, who brings a desk-smashing, unhinged megalomaniac energy to his performance as Balsillie. A fascinating slice of forgotten recent history, and an absolute blast.
BlackBerry will be released in cinemas by Paramount later this year.
Here
Another story of love, longing, and the forces that draw us together, Here was the deserving winner of the main prize in Encounters, the section of the Berlinale celebrating formally bold, boundary pushing cinema.
It's the latest film by Bas Devos, a fantastic young Belgian director almost uniquely attuned to environmental ambience, and the energy between people and place. Devos' 2019 film Ghost Tropic, about a middle-aged woman forced to walk home through nocturnal Brussels after falling asleep on the metro, had a gorgeous, otherworldly quality, as well as a keen sense of human community cutting across boundaries of age, race, religion, and class. This beautiful follow up is even better.
Here, Devos unspools the story of a kindly Romanian construction worker Stefan (Stefan Gota), and his chance connection with Shuxiu (Liyo Gong). Shuxiu helps her aunt at her restaurant from time to time, and this is where she and Stefan first meet, although like many other moments in Here, it's a seemingly innocuous moment feeding into a wider sense of magic. Stefan is preparing to leave Brussels and move home, but has to wait for his car to be fixed before he can leave. So he walks through the woods, makes soup, and takes the time to say goodbye to friends. A fascination with some seeds that he finds in his pocket hints at a sense of connection to the natural world, and it's that fascination that will bring him back into the orbit of Shuxiu, who is studying to be a bryologist. Two people bonding over moss is (I think) a new kind of meet-cute in cinema and is just one of several blissful moments in a film about the peculiar magic that is all around us, if only we can learn pay attention. Quietly glorious.
Here has no confirmed UK distributor at present, but we'll keep you posted!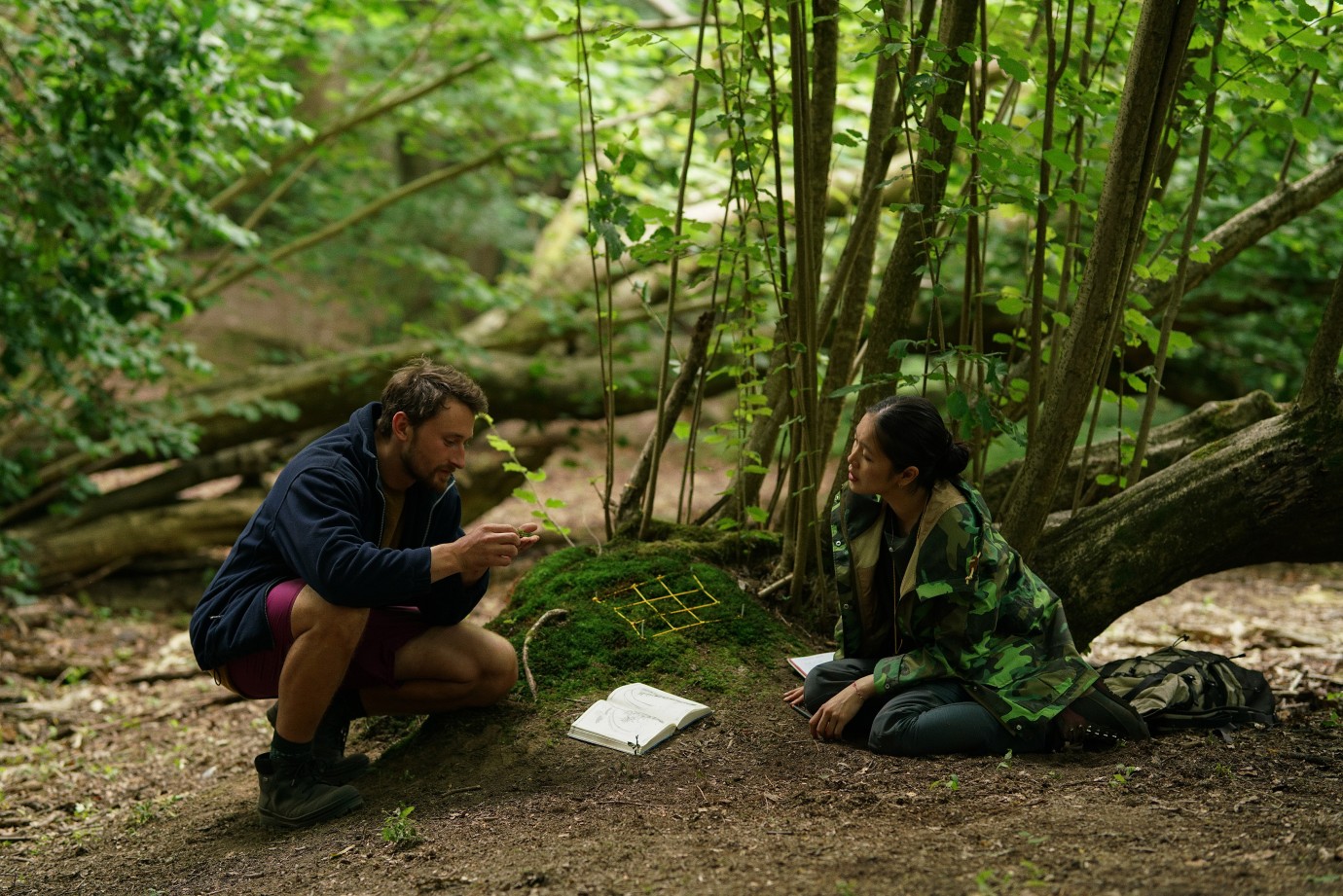 Totem
The second film from Mexican director Lila Avilés (whose debut film The Chambermaid played at the Tyneside Cinema in 2019) is a beautiful character portrait musing on life, loss and family. Told from a child's point of view and set over the course of a single day, a group of siblings go about organising a party for their brother Tona (Mateo Garcia), who has terminal cancer. At the centre of the story is Tona's 7-year-old daughter Sol (an extraordinary Naíma Sentíes), who despite her family's coded language and attempts at secrecy, is already piecing together the reality of what is unfolding around her.
Patient, engrossing, and subtly drawn, Totem is rare work of lived-in, humane cinema, with an immediate feel for character, ensemble and situation that recalls John Cassavetes, even though Avilés is operating in a very different register here. There are phenomenal performances in the round from a host of non-professional actors, and every character feels real, and alive. Cleverly revealing small portions of each characters' existence, the continuation of these lives offscreen is something that can be keenly felt, and tragically so with Sol, who spends much of the film hoping for a better future, before being slowly pulled into the tragic present.
Totem will be released in cinemas by New Wave Films later this year.
Manodrome
Fight Club becomes Incel Club in Manodrome, in which Jessie Eisenberg heads down the toxic masculinity rabbit hole. Making his English language debut, South African director John Trengove returns to the themes of damaged masculinity, trauma, and sublimated desire that marked his astonishing 2017 film The Wound, in a messy, uneven, yet often enthralling attempt to explore the modern wave of violent male subculture.
Eisenberg plays Ralphie, an Uber driver who was become obsessed with bulking up in the gym, and who is clearly fearing the impending arrival of his first child with partner Odessa Young. Eisenberg and Young are both excellent as stunted adults slowly edging their own respective ways towards cracking, and Eisenberg is utterly convincing as a squirming ball of anger, his neuroses denied the comedic outlet we've come to expect from him. When Ralphie is introduced to a mysterious group led by a suave, confident big brother figure (played with menacing poise by Adrien Brody), he becomes increasingly drawn into their narrative of independence and empowerment. Things go completely off the rails from there, and Manodrome goes to some very dark places indeed in the film's final act.
In the end, Trengove struggles to coalesce the four of five different ideas he is working with here, and Manodrome ultimately ends up unevenly straddling black comedy and a disturbing Taxi Driver-esque brand of psychological horror. But the film has a kind of desperate, propulsive energy matching Ralphie's own spiritual turmoil, with both Trengove and Eisenberg willing to take some big risks.
Manodrome will be released in cinemas by Universal later this year.