Tyneside Cinema at BFI London Film Festival
The London Film Festival is the UK's largest film festival, showcasing the best new independent films from around the world each October. Screening many of the works that will be winning major awards over the next few months, as well as presenting an exclusive selection of films from the festival to audiences in Newcastle at Tyneside Cinema, our programming team attended the LFF in order to find out which films will be an essential watch for our audience over the next few months. Andrew, Patrick, and Tanya have selected fifteen films from the festival below that are not to be missed.
Il Buco (Michelangelo Frammartino, Italy)
Having been enthralled by Le Quattro Volte more than a decade ago, I couldn't have been more excited for Il Buco, the long-awaited return of Italian filmmaker Michelangelo Frammartino. In Le Quattro Volte, we witnessed the meanderings of daily life in a medieval Italian village and its surrounding countryside, from an old shepherd attending his flock to the sweeping of a church floor; and from the felling of an ancient tree to a hilarious goat-led home invasion. Wordless, meditative, funny, and beautiful, it is one of those rare films that seems to contain the very essence of life – in all its wonder and absurdity – within it. Il Buco takes many of those same preoccupations with nature and cycles of life deep into the earth, following the journey of a group of speleologists as they explore an ancient Italian cave system. At the same time, we witness the declining health of the elderly shepherd who has acted as a kind of guardian over the land where the cave is located. What was (mostly) documentary in Frammartino's last film, however, is largely staged here, with the cave diving journey a re-enactment of a 1961 scientific expedition. But this slow, gorgeous work – shot by Renato Berta, Il Buco is one of the most beautiful films I've ever seen – represents a perfectly realised reality, offering a completely immersive contemplation of the impermanence of life, the permanence of nature, the parallels between scientific and religious enquiry, the unknowable mystery of all things, and most importantly, the awesomeness of the goat. A film to get lost within.
Andrew Simpson
Il Buco will be released in Spring 2022 by New Wave Films.
The Dance (Pat Collins, Ireland)
Irish director Pat Collins' enthralling documentary, The Dance, documents the creation of choreographer Michael Keegan-Dolan's latest improv show 'Mám'. Over ten weeks Keegan-Dolan brings together a dozen international dancers, a classical-contemporary music ensemble and a concertina virtuoso. The result is a fusion of tradition and innovation and an awe-inspiring insight into a constantly evolving creative process, set against a stunning backdrop of rural Ireland. The collaborative improvisation is guided by a healthy dose of playful experimentation and sudden sparks of inspiration. Keegan-Dolan holds the group with his philosophy and words of reassurance, urging them to succumb to their instincts. Through this seemingly haphazard process, a breath-taking performance begins to take shape. The intimate cinematography captures the tension, exhilaration and blinkered dedication of the group. The unwavering bond and trust between them is palpable. Witnessing each dancer pour their mind, body and soul into their performance is nothing short of a spectacle.
Tanya Charteris-Black
The Dance will be released in Irish Cinemas in February 2022 by Break Out Pictures.
Benedetta (Paul Verhoeven, France, Belgium, Italy)
The joltingly provocative latest from cinematic envelope-pusher Paul Verhoeven (Robocop, Elle), Benedetta is a 17th century religious period drama with a startlingly transgressive difference. Virginie Efira is electric in the titular role; a nun at a French convent who becomes enamoured with Daphne Patakia's Bartolomea, a young woman seeking refuge at the church. As the two undertake their taboo affair, Benedetta is struck by vivid visions, believing herself to be a prophet, leading to a clear divide in their community between devout true believers and accusers of blasphemy of the highest order… Sensational in the truest sense of the word, Benedetta is gleefully unpredictable, outrageously bold, boundary-pushing cinema, seamlessly entering the realms of comedy and horror as it examines faith under its one-of-a-kind satirical microscope.
Patrick Newton
Benedetta will be released in Spring 2022 by MUBI.
Hit The Road (Panah Panahi, Iran)
Fully deserving of its Best Film win at this year's festival, Hit the Road is a profoundly heartfelt road trip movie, marking the arrival of a major new filmmaking talent in writer-director Panah Panahi. Traversing the astonishing plains of Iran, Hit the Road is an astutely observed portrait of family resilience, whose emotional journey is every bit as powerful as its awe-inspiring travelogue of the might and wonder of the natural world. Rayan Sarlak delivers a young actor performance for the ages, grounding the film in childlike wonderment and naiveté, despite the hard-hitting reality of his immediate surroundings, while the immersive static-camera, long-take, extreme-long-shot cinematography cements the film as a true treasure of modern world cinema.
Patrick Newton
Hit The Road will be released in Summer 2022 by Picturehouse Entertainment.
Cow (Andrea Arnold, UK)
The latest film from Andrea Arnold (Fish Tank, Wuthering Heights, American Honey) is another story of lost souls trying to make their way through a cruel and unforgiving world… only this time it isn't fiction. A change of tack from a filmmaker known as an auteur of youthful disaffection, Arnold moves from drama to documentary in this bold new film that follows the life of a farmyard cow from birth to death. That the tactile immediacy of Arnold's Dardennes-esque style would be a great fit for a work of non-fiction is no surprise. But what makes Cow so wonderfully unique is the way in which Arnold is able to bring some of her other signature ticks to bear, from notes of youthful rebelliousness to some of the great pop music drops of the year. Engrossing, moving and expressive of the emotional life of the animal world, let's hope Arnold works in non-fiction more often from now on.
Andrew Simpson
Cow will be released on 14 January by MUBI.
Paris, 13th District (Jacques Audiard, France)
Based on three stories from Adrian Tomine's graphic-novel, Jacques Audiard paints an authentic, vibrant portrait of love, sex and desire in the Parisian district known as 'Les Olympiades'. Paris, 13th District follows the intersecting lives of four young adults as they navigate the peaks and troughs of everyday survival in modern-day Paris. Émilie enters a no-strings-attached relationship with her roommate Camile, who is besotted with Nora, who has her life turned upside down when mistaken for cam girl Amber. As the stories (and characters) intertwine, Audiard and script collaborators Céline Sciamma (Portrait of a Lady on Fire) and Léa Mysius, offer a fresh and nuanced insight into the complex dynamics of longing and loneliness. Brought to life by the effortless central performances of the cast, the sensual black-and-white photography and electric synth soundtrack. An intimate snapshot of the awkwardness, isolation and euphoria of life in a multi-cultural, racially and sexually diverse city.
Tanya Charteris-Black
Paris, 13th District will be released in Spring 2022 by Curzon.
Sundown (Michel Franco, Mexico)
A family holiday at an exclusive resort is interrupted within the opening few minutes of Sundown, a mysterious character study-come-social commentary starring a career-best Tim Roth. Evading his family in order to stay behind in Mexico by himself, is Neil trying to avoid an emotional reckoning of some kind, or is he pursuing a newfound freedom? As his family's pleas for him to come home and face the music get louder, that he may have simply lost his mind also becomes a distinct possibility. That the latest film from Michel Franco (New Order, After Lucia) offers no easy answers to this central mystery is part of its strange, creeping power, with the true nature of Neil's familial ties and state of mind only slowly becoming apparent. Moving away from the heavy-handed national commentaries of his previous work, Franco has now delivered a strange, elliptical portrait of his country, as well as a deft commentary on power, money, cultural currency, and the possibilities of checking out.
Andrew Simpson
It is unknown when Sundown will be released in the UK at present, but we will keep you posted!
The Lost Daughter (Maggie Gyllenhaal, US, Greece)
Maggie Gyllenhaal's masterful transition from actor to director is a gorgeous adaptation of Elena Ferrante's acclaimed novel, fronted by a typically wondrous turn from Olivia Colman. Colman stars as Leda, a haunted woman escaping her tumultuous, ambiguous family life by way of an idyllic Greek getaway. After meeting with warm, accommodative hotelier Lyle (Ed Harris, Apollo 13) and affable beach barman Will (Paul Mescal, Normal People), her escapist bliss is rudely interrupted, with an intimidating new arrival family, led by Oliver Jackson-Cohen (The Haunting of Hill House) and Dakota Johnson (Suspiria), forcing Leda to grapple with her own, emotionally loaded past… The Lost Daughter boasts an altogether stellar cast, with standout support from Jessie Buckley (Wild Rose) as a younger Leda. Remarkably assured as a debut feature, Gyllenhaal is expertly in control of the material, balancing lush Mediterranean vistas with a mature examination of the emotional grapples, constraints and inescapable cumulative toll of motherhood.
Patrick Newton
The Lost Daughter was released by Netflix and is currently screening at Tyneside Cinema!
Earwig (Lucile Hadzihalilovic, France)
The third mystifying feature from director Lucile Hadzihalilovic, Earwig, is adapted from Brian Catling's horrifying surrealist novella of the same name. This hauntingly beautiful and deeply unsettling body horror follows Mia, a young girl who has teeth made of ice. Mia lives confined inside a dingy house alongside the caretaker – who is tasked with the role of maintaining her ice dentures. The two do not speak and he does not touch her unless tending to her teeth, that are made from her frozen saliva collected in glass vials attached to either side of a metalic head brace. Each clack of chattering teeth is amplified by the deafening silence of the house, located in a mid-century town that seems to exist in ambiguous space and time. Hadzihalilovic's previous work also adheres to the same disturbing dream-logic and focuses on themes of lost innocence amidst the lingering presence of unsavoury authority figures. The evocative visuals, nauseating sound design and phenomenal world-building combine to create an alluring experience that is as hypnotic as it is repulsive. This phantasmagorical nightmare is sure to leave you with more questions than answers and an uneasy feeling that you can't quite put your finger on.
Tanya Charteris-Black
It is unknown when Earwig will be released in the UK at present.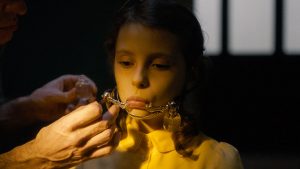 Nitram (Justin Kurzel, Australia)
Justin Kurzel tells the deeply disturbing true story behind the Port Arthur massacre, the deadliest mass shooting in Australia's history. Caleb Laundry Jones (Get Out) gives a spine-chilling central performance as Nitram, detailing his dysfunctional stranger-than-fiction life as an outcast leading up to the massacre. Nitram meets Helen, a lonely heiress played by the exceptional Essie Davis (The Babadook) when he offers to mow her lawn in an attempt to earn money. The pair enter a strange is it motherly-or-romantic relationship, to the dismay of Nitram's own mother, who is deeply concerned by his increasingly erratic and sadistic behaviour. The events that unfold carry such queasy foreboding that is hard to watch yet impossible to take your eyes off. The result is a darkly capitating experience that screams the question; why was someone like this ever able to buy guns? A highly controversial topic yet important statement on the gun law debate, as is highlighted in the harrowing final moments – there are currently more guns in Australia than in 1996.
Tanya Charteris-Black
Nitram will be released in Summer 2022 by Picturehouse Entertainment.
Prayers for the Stolen (Tatiana Huezo, Mexico)
Another marvel of a debut feature, Prayers for the Stolen is Tatiana Huezo's tender, compassionate coming-of-age film, turned anxiety-inducing portrait of life living under cartel rule. Set in the mountainous terrain of Mexico, it follows three best friends through formative youth, coming to terms not only with the relatable struggles of adolescence, but also the harsh reality and ever-present danger of their neighbourhood, as young girls are heartbreakingly stolen from their families… A child's-eye perspective of unimaginable pain and fear, which also finds joy and levity within its central bond of friendship, Mexico's entry for Best International Feature at next year's Academy Awards deftly navigates a mature balancing act between the prominence of love in the community with an ever-looming atmosphere of dread of the inevitable loss – a loss heartbreakingly faced by so many…
Patrick Newton
It is unknown when Prayers for the Stolen will be released in the UK at present, but we will keep you posted!
Benediction (Terence Davies, UK)
The latest film from Terence Davies is a grief-stricken, often hilarious portrait of the life of Siegfried Sassoon, the anti-war poet who found fame in Britain in the aftermath of World War One. That a film can contain such deeply emotive horror as well as moments of supremely catty comedy is yet another mark of the cinematic genius that is Davies, the director of the likes of Distant Voices, Still Lives, The Long Day Closes and The Deep Blue Sea. Led by a towering performance by Jack Lowden as Sassoon, Benediction spins an episodic tale beginning in the aftermath of Sassoon's stand against the war in 1917. Embellishing his poetry with emotive archive footage, the resulting story details Sassoon's battle with the British state as well as his experiences as a gay man, and particularly his relationship with musician Ivor Novello (Jeremy Irvine). The resulting film wrings enormous pathos from the contrast between publicly laying bare ones' trauma, and the hidden lives many who had suffered so much were forced to lead throughout the Twentieth Century. That Benediction leavens its justifiable sense of anger with such human wit and warmth represents another triumph from Britain's greatest living filmmaker.
Andrew Simpson
Benediction will be released in Spring 2022 by Vertigo Releasing.
Titane (Julia Ducournau, France)
Acclaimed director of cannibal-comes-of-age tale Raw, Julia Ducournau, returns with another mind-bending, stomach-churning body horror. Palme D'Or winning, technothriller Titane follows Alexia, a motor show dancer with a thirst for violence and sexual obsession with cars. After enduring severe injuries in a car crash as a child, Alexia has a titanium plate fitted to her skull, igniting her animalistic fixation on all things metalic. A series of increasingly twisted events lead Alexia to Vincent, a hardened firefighting chief grieving the disappearance of his child. Through wince-inducing body horror and surprising moments of hilarity, Ducournau evokes a profound and unexpected exploration of unconditional love and the innate desire to care and be cared for. This genre-shattering dissection of the human condition, with its kaleidoscope visuals and pulsating soundtrack, will shake you to the very core.
Tanya Charteris-Black
Titane will be released by Altitude and is coming to Tyneside Cinema on Boxing Day. 
The Phantom of the Open (Craig Roberts, UK)
A joyful, crowd-pleasing, life-affirming triumph from director Craig Roberts (Just Jim, Eternal Beauty), The Phantom of the Open is an endlessly charming real-life British underdog story. Following the eternal optimist Maurice Flitcroft (Mark Rylance, Bridge of Spies), who, after work in the shipyard ceases, pursues a spur-of-the-moment dream to become a professional golfer. Submitting his unlikely application for the British Open, this stranger-than-fiction tale of unbridled passion and persistent drive sees Maurice go to extreme comical efforts to realise his goal… Channelling the same feel-good energy of thematic sibling Eddie the Eagle, this is irresistibly heart-warming cinema, with a sparking script from Simon Farnaby (Paddington 2, Wonka) and spirited, imaginative direction from Roberts making this a real treat.
Patrick Newton
The Phantom of the Open will be released in Spring by eOne.
Compartment No. 6 (Juho Kuosmanen, Finland, Russia)
Juho Kuosmanen's follow up to The Happiest Day in the Life of Olli Mäki is both a triumph of cinematic storytelling, and a marvellous technical achievement. Kuosmanen's film sees two people meet on an overnight journey to the city of Murmansk in Boris Yeltsin's Russia of the early '90s. They are Laura (Seidi Haarla), a Finnish academic living in Moscow with her girlfriend but who is travelling alone, and Ljoha (Yuriy Borisov), a boorish Russian miner who seemingly couldn't be more different to his travelling companion. Where this story of human connection and mistaken first impressions is going may be obvious. But the sheer deftness of the emotional shifts in Compartment No. 6, no matter how telegraphed, make this a triumph of humane, romantic storytelling. Led by truly wonderful lead performances from Haarla and Borisov, it's also a showcase for the wilds of the Russian Arctic, and a brilliant evocation of period detail via Kuosmanen's astonishing use of a Soviet-era train as the film's setting, ladening his film with an atmosphere that carries Compartment No. 6 to new heights.
Andrew Simpson
Compartment No. 6 will be released on 31 March by Curzon.