Cannes Festival Roundup 2022 – Part 1
With the Cannes Film Festival hosting its first fully fledged edition since 2019 last month, one of the major annual bellwethers of independent cinema has now truly returned. Screening some of the most exciting cinema of 2022 for the first time anywhere in the world, Tyneside Cinema's Head of Film Andrew Simpson attended the festival to find the essential films to bring to audiences in the North East later this year. From the 34 films that we saw, here are 12 recommendations to look forward to…
Triangle of Sadness
Swedish provocateur Ruben Östlund provided one of the festival's major talking points with Triangle of Sadness, duly picking up his second Palme d'Or for this outrageous comedy about the luxury cruise from hell. Beginning in the world of fashion before segueing into an ensemble comedy on an exclusive yacht, Östlund's film has the potential to make a real, Parasite-like splash in cinemas later this year. I wasn't a big admirer of The Square, finding its art scene satire banal, with cobbled together narrative akin to a half-written Black Mirror episode, despite some brilliant set pieces. But Triangle of Sadness sees Östlund bring the scabrous human insights of 2014's Force Majeure onto that film's larger canvas.
Riddled with skin-crawling awkwardness and memorable characters – props go to Woody Harrelson's Marxist ship captain and a fertilizer magnate (played by Croatian actor Zlatko Burić) who dubs himself 'The King of Shit'– Östlund eventually dumps his cast, Lord of the Flies-style, on a deserted island. It's here that Triangle of Sadness' satire of wealth and class starts to bite, as the social order is rapidly upended. But nothing quite tops the film's centrepiece, in which the ship's (largely loathsome) inhabitants suffer a series of seasickness-related indignities during a storm. A flabbergasting sequence worth the price of admission alone, that Triangle of Sadness never loses sight of the human stories within all its bombast distinguishes it from the director's previous film. Balancing the hilarious and the humane, the touching and the grotesque, the satirical and the personal, this is a sublime, even touching, act of class war.
Triangle of Sadness will be released by Curzon later this year.
Aftersun
The most exciting British film of this year's festival was undoubtedly this personal, deeply moving debut from Charlotte Wells. Playing in the festival's Critics' Week sidebar (where many of the best first and second features at Cannes can be found), it's a film full of touching, incidental detail, letting a story of a young girl on holiday with her father in the early 1990s unspool with unshakeable authenticity and melancholy.
Newcomer Francesca Corio plays Soph, who has come to Turkey on a package holiday with her dad (Normal People's Paul Mescal) who has recently split up with her mother and is clearly dealing with a profound sadness that he is struggling to control. Their relationship is unfussily, convincingly portrayed by the two leads' extraordinary performances, and Wells gives her film some beautifully impressionistic flourishes, including scenes shot by Soph on a new video camera, and a dreamlike space where Soph is reunited with her dad as she looks back on their relationship later in life. A film about childhood memory being recollected rather than an 'in the moment' story, this is a lovely and beautiful work about what we experience when we're young, and what we come to understand.
Aftersun will be released later this year by MUBI.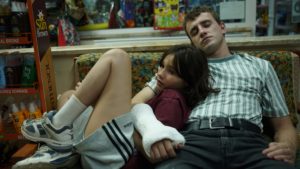 Moonage Daydream
However fever-pitched one's excitement might be for a new 'definitive' documentary about a musical icon, little can prepare you for the intergalactic splendour of Moonage Daydream, Brett Morgen's trippy, wonderful journey through the creative mind of David Bowie. Working with the Bowie estate and going absolutely to town with a plethora of private footage, recordings, and live performances, that Moonage Daydream contains a treasure trove of previously unseen Bowie ephemera is only part of the pleasures to be found in this extraordinary film.
Accepting that it's almost impossible to craft a traditional, linear account of one of rock's most uncategorisable godheads, Morgen has instead crafted a thrilling audio-visual collage of Bowie's music and musings, leaping back and forth between time periods to explore different elements of the star's legacy, music, and consciousness. The result is an almost freeform journey through the Bowie universe, as breathtakingly cinematic as it is illuminating. See it big and very loud.
Moonage Daydream will be released by Universal later this year.
Decision to Leave
The director of Old Boy and The Handmaiden returns to the Hitchcockian games that have marked out his recent work in Decision to Leave, a delightfully pungent tale of murder and obsession. Park Hae-il plays a detective who becomes besotted with the wife of a government official who has recently died in mysterious circumstances on a remote mountaintop, embarking on an emotional journey that calls into question his seemingly happy marriage, not to mention his moral compass. But the object of his affections is a richly complex, emotive, contradictory character, with Decision to Leave excelling in all the ways that it isn't the femme fatale story you expect.
Anchored by a mesmeric performance by Chinese actress Tang Wei (best known for Ang Lee's Lust, Caution), the tender, manipulative, at times desperate entanglement of Park's two lead characters takes what could have been wrote material into unexpected terrain, offering up everything from thrilling rooftop chases to genuinely moving emotional anguish. A twisting, turning delight, it's one of the best films of the year.
Decision to Leave will be released by MUBI in October.
Return to Seoul
This thrillingly kinetic second feature by Davy Chou is a late coming of age drama, carried by a phenomenal central performance. Newcomer Ji-Min Park plays Freddie, a young woman returning to South Korea for the first time since she was adopted by French parents as a baby. Deciding to seek out her biological father and mother, her experience in South Korea will leave indelible marks on her, and Chou's film is a fascinating study of a character who lives relentlessly in the present to avoid the emotional weight she is secretly carrying.
Unfolding across a series of distinct chapters in which Freddie seems to be adopting different personas in a bid for happiness, Park's transformation from carefree Euro tourist to Seoul techno punk to clean living businesswoman is superbly navigated, and Chou brings a choppy, edgy rhythm to Return to Seoul whilst never losing sight of his film's deeply humane, empathetic perspective. The result is a bracing, cathartic exploration of the things we need to go through in order to let go.
Return to Seoul does not yet have a UK distributor.
War Pony
The hard knocks of life on an Indigenous American reservation come in for convincing and humane treatment in War Pony, the debut feature from Gina Gammell and actor-turned-director Riley Keough. A deserving winner of the Caméra d'Or (awarded to the best debut feature at Cannes each year), its setting is the Pine Ridge Reservation in South Dakota, where the Oglala Lakota people endure a life of scant opportunity, discrimination, and hardship.
Bill (Jojo Bapteise Whiting) is barely twenty-something, navigating an on-again-off-again relationship with the mother of his young son, a plan to start a dog breeding business the latest in a series of side hustles. Matho (Ladainian Crazy Thunder), meanwhile, is a young boy with experience way beyond his years, torn between proving his worth as a man and maintaining some semblance of childhood innocence. Their stories unfold in parallel over the course of a few weeks, as Bill is taken under the wing of a local businessman promising a more 'respectable' career path, and Matho becomes involved in a local drug gang after being made homeless.
With a rough, realist aesthetic occasionally punctuated with moments of poetry, this is slightly reminiscent of Sean Baker's The Florida Project, which starred one Riley Keough in a breakout acting role. But what impresses most is War Pony's contained sense of scale. Presenting a lived in, convincingly rendered world – created in collaboration with co-writers and Pine Ridge natives Sioux Bob and Bill Reddy – War Pony is loaded with riveting incidental characters, lending the film a weighty authenticity. Speaking to Keough and Gammell's careful, intimate relationships with their subjects, their approach bears fruit when the lives of Bill and Matho finally intertwine. A moment handled with an almost unbearable kindness, it's emblematic of this rather special film.
War Pony will be released later this year by Picturehouse.
That's all for now, but check back later in the week for Part 2…